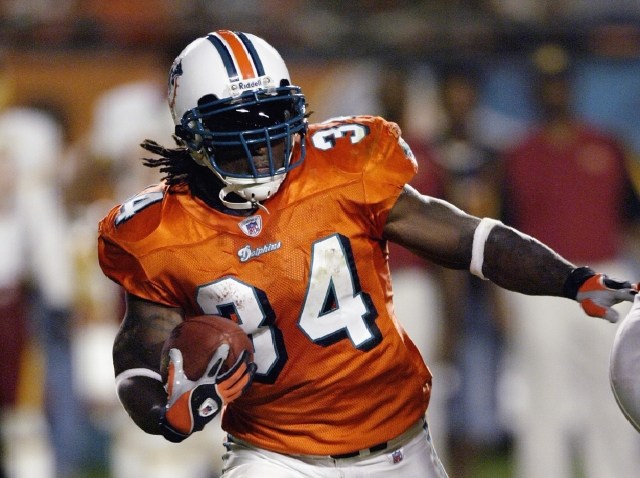 Some say they have magical powers. Some say they look like a pumpkin fell into nuclear waste, mated with a neon sign, and puked up a helmet.
Others say they're reminders of the Dave Wannstedt era and should be lit on fire and then lit on fire again.
Hopefully the magic part still holds, because the Dolphins plan to wear their rarely-seen, eye-offending, undefeated orange jerseys when they host the Jets for Monday Night Football next week.
The higher-ups must be banking on (a jersey sales boost or) Sunday's win over the Bills and the insertion of Chad Henne sparking a real turnaround, because they risk ruining the magic with a loss against 3-1 New York.
But then, the jersey was made for big games, and it isn't scared.
After all, it's already orchestrated a comeback over the Redskins. In 2003, the jersey's first appearance, the favored Fins trailed by 13 heading into the 4th quarter. In front of a rowdy home crowd, Ricky Williams ran for two touchdowns in the final minutes and the Dolphins won by a point.
And then there's its most famous appearance, one of the greatest Dolphins victories of all time.
In 2004, the 12-1 Patriots came to Miami to crush the pathetic 2-11 Dolphins. The orange-clad home team trailed 28-17 with four minutes left before hightailing it down the field to come within 5. On the ensuing New England possession, Jason Taylor forced Tom Brady to make a terrible throw Jason Taylor forced Tom Brady to make a terrible throw Jason Taylor forced Tom Brady to make a terrible throw (sorry, we could type that all day) and Brendon Ayanbadejo came up with the interception.
With 1:45 to go, A.J. Feeley took over on New England's 21-yard-line. He found Derrius Thompson in the end zone four plays later to go up 29-28. Brady would be intercepted again to clinch the most unlikely of victories, sending Dolphins Stadium into a frenzy.
And that's the power of the orange jersey: it made A.J. Feeley a hero. And he's Canadian!
So here's hoping it can do even more with The Robot Chad Henne. The Jets will be blitzing out of their minds, and he'll need all the help he can get. If that comes from a headache-inducing shirt that blinds the opposition, so be it.
Copyright FREEL - NBC Local Media