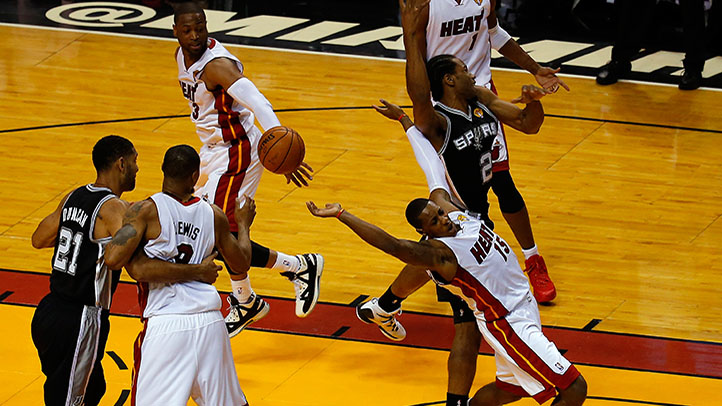 The Miami Heat lost by a final of 112-92 to the San Antonio Spurs on Tuesday and are now trailing 2-1 in the NBA Finals.
The first half of game three featured unbelievable efficiency by the Spurs at a rate around 90% into the second quarter. When the half closed out, San Antonio ends up with a 75.8% on field goals and a 21-point lead.
Earlier in the half, the Spurs had led by as much as 25 before Miami briefly made it a 14-point game. San Antonio was playing excellent defense as well and forced ten Heat turnovers in the half to go along with seven steals.
Rashard Lewis was a big reason for the Heat reducing the deficit as he had 11 points including three of four from downtown. LeBron James also had a big half with 16 points and five points while playing over 21 minutes in the half.
James played the entire first quarter which is something he didn't do in either game in San Antonio. After sitting to begin the second quarter, James was forced to re-enter after less than three minutes on the bench due to a run by the Spurs.
At the half, the score was 71-50 Spurs.
During the third quarter, the Heat managed to cut the lead all the way down to seven with James resting on the bench. The charge back into the game was led by Dwyane Wade who hit a floater to get it to seven.
After allowing 71 points in the first half, Miami only allowed 15 points in the third quarter thanks to improved defense and ball control. Even though the Heat outscored the Spurs by ten in the quarter, they still trailed by 11 going into the fourth.
The Spurs would increase the lead back to 15 around the midway point of the fourth quarter. Even though the Heat would cut it back down to 13, they were unable to get it any closer than that. James finished with 22 points by going an efficient 9 of 14 on field goals. Wade had 22 points of his own.
Game Four will take place on Thursday at 9:00 p.m. in Miami.