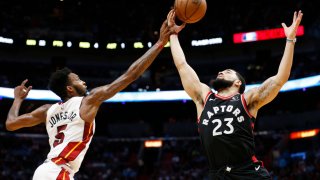 Bam Adebayo had 15 points and 14 rebounds and the Miami Heat put together their best defensive performance of the season in an 84-76 victory over the Toronto Raptors on Thursday night.
Tyler Herro and Goran Dragic each scored 13 points for Miami. The Heat are 2-0 against the Raptors this season and improved to 9-0 after a loss. Miami and Milwaukee are the only teams to not lose consecutive games this season.
Derrick Jones Jr. scored 10 points and Jimmy Butler finished with eight points, 12 rebounds and seven assists for Miami.
Serge Ibaka had 19 points and 10 rebounds for Toronto. Kyle Lowry scored 15 points, Rondae Hollis-Jefferson added 13 and OG Anunoby had 12 points and 12 rebounds. The Raptors shot only 31.5% and were 6 for 42 from 3-point range.
Copyright AP - Associated Press