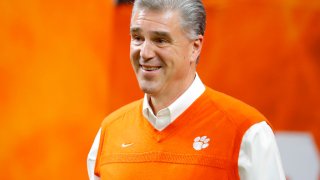 Days after naming a new football coach, the University of Miami now has named his new boss.
The school hired Dan Radakovich to serve as both vice president and director of athletics. He previously spent the last nine years as the athletic director at Clemson.
"I am so grateful to President Frenk and the University's Board of Trustees for this incredible opportunity," said Radakovich. "Their commitment to Miami Athletics' comprehensive pursuit of excellence and championships is what brought me back to Miami. As a unified Hurricane family—students, alumni, donors, and fans—there is nothing that we cannot accomplish. We are going to set the bar high and jump over it."
The 63-year-old Radakovich will replace Blake James, who Miami let go last month, two days after the Hurricanes' football team lost to Florida State. That was the precursor to another move, the firing of Manny Diaz as football coach earlier this week and replacing him with Miami alum Mario Cristobal.
With Radakovich, the Hurricanes are bringing another alum back to Coral Gables. He got a master's degree in business administration from Miami in 1982.
Miami becomes the third ACC school to have Radakovich as athletic director. He was at Georgia Tech from 2006 through 2012 and Clemson for the last nine years. During his stint at Clemson, the Tigers played for the national title in football four times, winning two.
"Everybody that I've spoken to that knows Dan raves about him," Miami men's basketball coach Jim Larrañaga said earlier this month as it was becoming clear that Radakovich was the Hurricanes' top target for the job.
"He's a heck of a businessman. He's got tremendous experience," Larrañaga added.
Radakovich's career in sports administration began in 1983 at Miami, so his hiring by the Hurricanes has his career coming full circle.
Radakovich, then 25, left an accounting firm to take a job working for legendary Miami athletic director Sam Jankovich as the Hurricanes' director of athletic financial affairs. He arrived about 2 1/2 months before the football team won its first national championship.