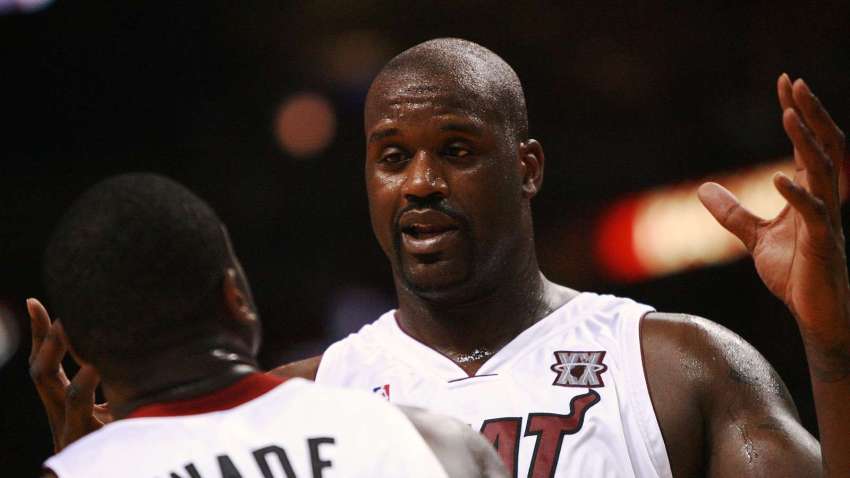 Last week Dolphins tight end Anthony Fasano spoke with ESPN radio from Los Angeles, where he was attending a charity golf tournament. "What do you do with all your money?" he was asked.

"The Dolphins don't even have direct deposit," Fasano joked. "I go to my bank every two weeks and make a deposit."
The thought of athletes running piddly banking errands just like the rest of us is pretty hilarious -- especially if they do it in their cars made entirely from chrome -- but if Fasano is even partially serious about leaving his money in the bank, he's better off than many professional athletes.
60% of NFL ballers are bankrupt within five years of leaving the game, and 78% of NBA players are bankrupt or in financial stress within two years of retiring, according to Sports Illustrated. There's a host of reasons why this happens, including a lack of education, preying "advisers," and divorce, but pondering those issues isn't nearly as fun as, say, trying to figure out how Shaquille O'Neal spent $24,300 a month on gasoline while he was with the Heat. (Do flamethrowers take premium unleaded?)
While the look at Shaq's monthly expenses was jaw-dropping -- $114,946 for "miscellaneous/personal," which doesn't even include his laundry ($6,730), pet care ($2,305), or music and magazines ($1,620) -- the big center is actually much more financially sound than many of his league-mates. He can afford to average over $3,800 a day for walking around money.
What other crazy spending adventures are athletes up to?
Panthers receiver Muhsin Muhammad built the largest residential aquarium in the Southeast into his Charlotte home. (His realtor is now listing it on eBay, along with a terrible oil painting, so perhaps that wasn't a good choice.)
Former UM great and current Baltimore Raven Ray Lewis has just purchased property on the Bahamian island of Rum Cay. His new lot features virgin oceanfront and the address "52 Lewis Lane." Want your own street? Buy it!
Derek Jeter will soon have the largest house in Tampa -- a 30,000 square foot monster on three lots, across the street from 81-year-old Norma Lurie. Lurie bought her Davis Islands home for $42,000 in the '70s. "I'm not going to let that intimidate me," Lurie said as she climbed the rankings in People We Wish Were Our Grandmother. The house will have seven bedrooms, nine bathrooms, two three-car garages, and, we hope, a special torture chamber for separating teammate Alex Rodriguez from his ego.
Immokalee's own Edgerrin James decided on a whim that he wanted to have a Lamborghini on hand for Super Bowl week. He bought the car in Miami ("straight cash out the door!") and had it shipped to Tampa where he parked it outside the Cardinals' team hotel. "I don't like to really drive that much so it's fitting, it's perfect for someone like me," he said. "You don't have to drive it all the time, you know ... it's one of those things where less is more."
And, therefore, not less.

Janie Campbell is a Florida native who can't wait to sign with the Marlins and blow her pay on diamond footie pajamas. Her work has appeared in irreverent sports sites around the internet.

Copyright FREEL - NBC Local Media