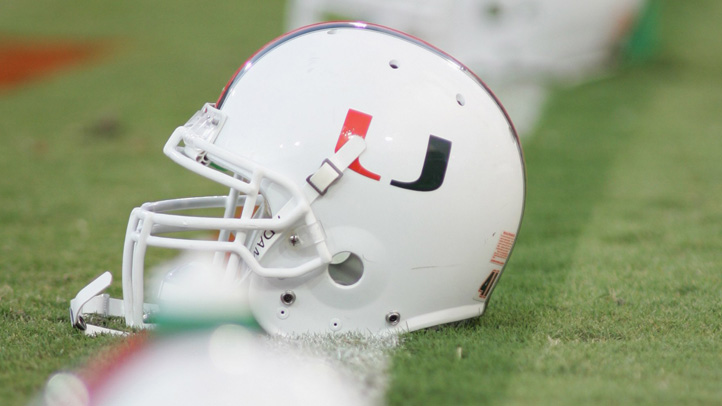 The NCAA's investigation of the UM athletic department and its ties to convicted Ponzi schemer Nevin Shapiro has taken yet another improbable turn. A UM football player who has been questioned by the NCAA three times as part of its inquiry has reported the organization to Coral Gables police, alleging that he was coerced by an investigator to incriminate the school.
The Miami Herald reported Monday night that Dyron Dye and his attorney, Darren Heitner, filed a report on Friday, stating that former NCAA official Rich Johanningmeier (now retired) "coerced Mr. Dye into providing favorable answers for his investigation."
The incident occurred during Dye's second interview with the NCAA, in August 2011. Dye met with the NCAA a third time in May to discuss discrepancies between his first two interviews and an affidavit he signed in support of former UM assistant coach Aubrey Hill, who was implicated in the Shapiro scandal.
NCAA: UM 'Grasping at Straws' in Motion to Dismiss Investigation
"I wish to decline commenting on what was said by any of the parties attending the interview," Heitner said after the third interview. "However, my client stands behind the statements he made and those contained within his affidavit."
Dye is not the only UM player (past or present) to accuse the NCAA of intimidation. "The NCAA treated us like criminals," Miami Dolphins DE and former Cane Olivier Vernon told the Herald in May.
The NCAA had alleged that Hill and former Miami assistant Clint Hurtt allowed recruits to stay at their homes for no cost during unofficial visits.
Heitner said Monday that Dye "did not recall specifics of what Mr. Johanningmeier was asking. Mr. Dye stated that he felt intimidated by Mr. Johanningmeier."
UM Details Damages Caused by NCAA Probe
He also said Johanningmeier "threatened Mr. Dye's football eligibility if he did not cooperate during the interview."
A Gables PD spokesperson told the Herald Monday night that he was not certain whether the incident will be investigated further.
The NCAA could still charge Dye with an unethical conduct violation for his conflicting testimonies, which may result in his suspension ahead of his senior season.
According to the Herald, Johanningmeier and the NCAA were sued for defamation by two former Alabama coaches. He is also the target of a lawsuit by former Mississippi State coach Jackie Sherrill.
Copyright AP - Associated Press