Cuban Dissident Group Ladies in White Co-Founder Berta Soler to Visit University of Miami
Soler will meet with Miami exiles Saturday night.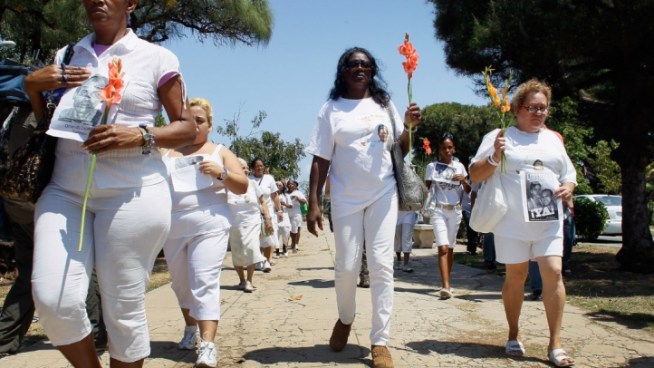 Joe Raedle/Getty Images
Berta Soler (C) and other women with the dissident Ladies in White group, also known as 'Damas de Blanco', march together after a church service a day before Pope Benedict XVI is scheduled to arrive in Cuba on March 25, 2012 in Havana, Cuba.
One of the founders of a Cuban opposition group awarded Europe's top human rights prize is meeting with exiles in Miami.
Berta Soler will visit the Institute for Cuban and Cuban-American Studies at the University of Miami on Saturday.
Soler is a co-founder of the Ladies in White, a group of wives and mothers formed in 2003 after the arrests of 75 government opponents.
The Cuban government has detained the women from time to time and sent pro-government crowds to shout at them. But their demonstrations proved successful. All of the political prisoners arrested in the crackdown a decade ago have since been released.
Soler and other members accepted the European Union's Sakharov Prize on Tuesday, eight years after receiving the award.
More Local Stories: