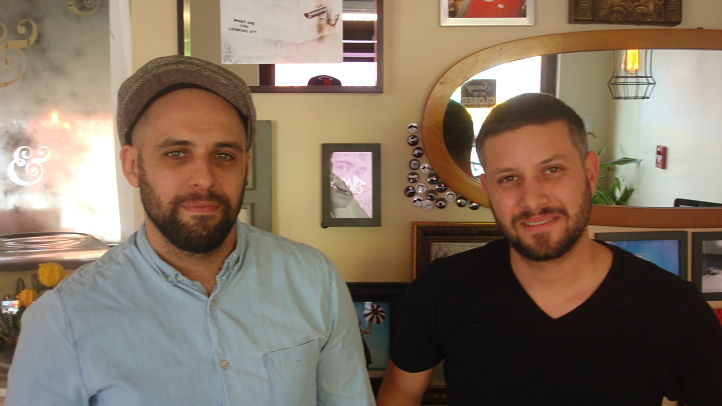 Only fools and shut-ins ever claim to not be bothered about their appearance; the rest of us kinda dig looking our best. And why wouldn't we? The better we look; the better we feel. The better we feel; the better we do. And if you don't think people notice when we're looking and feeling and doing our best, one visit to Junior & Hatter will dispel that thought forever. Conceived, designed and directed by Andrea Battista and Mario Silvestri, J&H is a one-stop shop for those with the look folks wanna know better, as well as for those who want a look that does them best. This Second Saturday the joint is turning itself inside out with a de facto block party they're calling PLUGGED. And from the looks of things it's gonna be one helluva throwdown. No fooling.
For the few still needing to get in the know, just what is Junior & Hatter? Junior & Hatter is a hair design movement that is happening in the heart of the Wynwood Art District.
What made you cats decide to set up shop in Wynwood's signature Building? It's the strongest location statement that we could have made. The conventional thing to do would have been to place ourselves on NW 2nd. But we are here because we are all about Wynwood ... Plus we have a tremendous amount of confidence in the Goldman camp, and the groundwork they have laid here. So, The Wynwood Building, one block west of 2nd, was really a no-brainer.
How's it feel to be positioned smack in the center of the 'hood that's smack in the center of Miami's art scene? What's best about it is that there are very few rules. Yes we are a hair "salon," but our space is more about the feel and vibe of not only Wynwood, but what we are into as artists. We are going to be opening up the space for all different types of events, including those that are hardly hair-related, from Rock Band parties to intimate piano nights. And of course, Junior & Hatter "PLUGGED."
Speaking of which, what's J&H got goin' down for this Second Saturday night? Junior & Hatter "PLUGGED" will feature a live band every Second Saturday outside of our space on 3rd Ave. It's an opportunity to give art crawlers a chance to stop by and hear live music.The session will be from 9-12. This month we are featuring Tabula Rasa.
Will there also be a bit of barbering during the partying or will you two put down the sheers and join in on the fun? No way!!! We prefer to party with our friends!
Isn't this de facto block party a kinda extension of the super social component which help makes J&H so great in the first place? 100%. When it comes to our events, it's all about opening the space to anyone who is into a good vibe, not to sell our services. Even during regular business hours, we encourage our guests to come in and play Nintendo and have a beer, whether or not they need a haircut. Organic is key for us.
Junior & Hatter PLUGGED takes place this Second Saturday night on the Avenue in front of The Wynwood Building. Make. This. Scene.