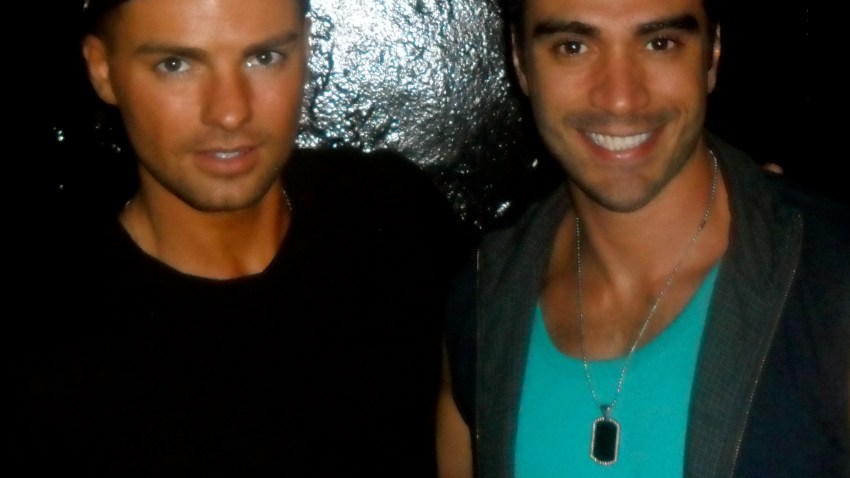 Miami has some of Hollywood's hottest stopping by to enjoy what we love year-round. And on one of our biggest holiday weekends, the "A-list New York" guys couldn't keep away either.
Logo channel's Derek Lloyd Saathoff and Rodiney Santiago both dropped into the Magic City over the weekend to host parties all over South Florida. And lucky for us, we caught up with them both at Score Nightclub on Lincoln Road.

I know you both call New York home. How do you guys like Miami so far?
Derek: I arrived three hours ago and I already love it.
Rodiney: The nightlife here is the best. Score is one of my favorite clubs, so I am so excited to be hosting here. Going to the beach is probably my favorite thing to do when I am here. They are just like nothing else.

Rodiney, you used to live here, right?
Rodiney: Yes, I did. It's so different! Sometimes in the winter, New York is just too much. I go a lot back and forth.

Would you explain your show as the male version of "Real Housewives?"
Rodiney: Real Housewives with testosterone.
Derek: I think that's a pretty good assessment of the show. We are the male version of the Real Housewives of New York. None of us are married or anything like that but we are just six guys living in New York. Well, with cameras following us around.

What is it like to have your whole life on TV?
Rodiney: Its fun, but at the same time its weird. People know you, they know what you do and they judge what they think they know of you.
Derek: You learn what you say has weight and you have to be careful of what you say, because whatever comes out of your mouth will be out there forever. I remember when I started, someone told, "Get prepared, because whatever you say and do will be replayed over, over and over again. And lets not forget it will follow you."

Any moments you regret?
Derek: There are a few things that I regret. I went on a date this season on the show and it caused a lot of uproar. I would take that back if I could.
Rodiney: There are a few things, but I wouldn't say regret, because those things are me. I through a drink in one of my castmate's, Austin, face. I should have never done that, but a lot of people were glad I did.

Some critics have said that "A-List New York" is bad for the gay community. Do you agree?
Rodiney: We don't represent the gay community. We are only six guys – how can that represent a whole community?
Derek: I feel very strongly that we should have a million shows featuring gay people. I don't think one show can ever really represent one group of people. I feel really strongly that I think we are starting the trend of having more gay themed shows. It's hurtful when people say things like that. I am really proud of the show.