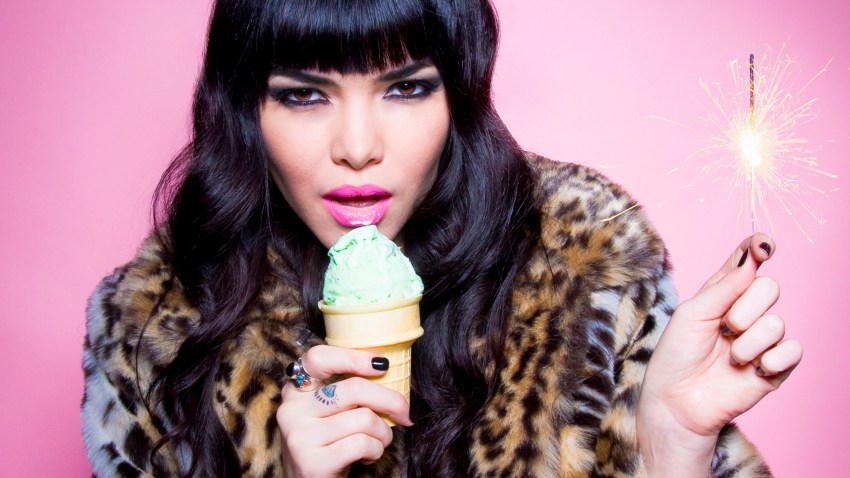 Ex-Playboy playmate DJ Tamara Sky said living in the infamous Mansion was a "dream come true" and dished on life behind the gates with the original blonde bombshell reality starlets of the "Girls Next Door."
The brunette beauty, whose resume includes working with Paul Van Dyke and spinning at parties for Pamela Anderson and Donald Trump, spent two weeks living behind the gates and said her steamy magazine spread was the first one Hugh Hefner's former live-in girlfriend Holly Madison had ever worked on.
"After me, she was brought on full time to work direct all the shoots," the former pin-up beauty said of Hugh Hefner's platinum blonde former live-in girlfriend. "The girlfriends and I became close after the shoot."
Sky said she and Hef's girlfriends would eat dinner at 4 p.m. daily and her favorite part about living in the mansion was the food -- particularly ordering pancakes late-night.
"Anything, honestly, anything you want they have it," she said. "It was a dream come true."

But with her jet-setting ways -- the Asian leg of her tour is coming up later this year -- she only has time to focus on her blossoming spinning career these days.
"I don't know if I'll ever get used to living out of a suitcase," said the Puerto Rican bombshell before heading to Atlanta to DJ the official Passion Pit after party there. "Honestly, sometimes I'm walking around like a zombie. But, I definitely love what I do."
"I don't want to be Playboy playmate Tamara Sky," she said with a smile. "I'm just DJ Tamara Sky who happened to do Playboy."