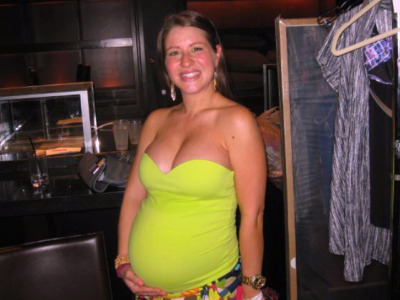 As if the stresses of getting ready for your first fashion show aren't enough, imagine being six months pregnant.
Meet designer Vanessa Rocha, designer of Iemanjà Swimwear.
Rocha presented her summer 2011 collection at the Cosmopolitan Summer Splash on Wednesday night, sharing the runway with designers like Ashley Paige and Sergio Rossi.
And with her first show behind her, she knows if she can tackle fashion week, being a mommy/mogul is totally in her reach.

"I have received so much great advice from other designers," Rocha said. "They tell me that of course it's going to be hard being a mom in the fashion business, but it's far from impossible. As long as you have support, you're good."

And with bathing suits and babies on the brain, she admits that her baby bump hasn't stopped her from wearing even the tiniest of swimwear.

"I love bikinis -- I definitely still wear them every time I go to the beach. I think women's bodies are beautiful to begin with, so when she is pregnant, even more reason to show off her body."

And for any women out there looking for the perfect summer suit, pregnant or not, she has a few tips before heading into the dressing room.

"The real secret is to shop for your type of body, and for a suit to fit great, you have to try it on -- Never buy it right off the hanger, because you never know how it's going to look on you."

And most importantly she adds, "Just always love and flaunt whatever you got."