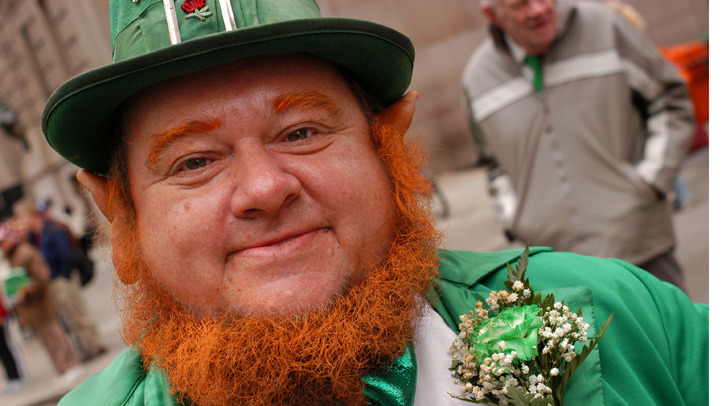 By definition, St. Patrick's Day is the saint's religious feast day and the anniversary of his death in the fifth century. The Irish have observed this day as a religious holiday for over 1,000 years. Americans use it as the perfect opportunity to wear green, heavily drink and hit the town hard.

And if you are a Miamian looking for the perfect place to celebrate, we found five places that will have you feeling the luck of the Irish in no time.

Tobacco Road (626 South Miami Avenue) For those looking for a non-traditional party, head over to Miami's oldest bar, Tobacco Road. The Cabbage Patch Bash will include DJ Oski, Miami's finest food trucks, green brew, cocktails, a cabbage patch, cabbage toss, cabbage wrestling and so much more. Oh and don't let us forget the pickle eating contest.

Fado Irish Pub (900 South Miami Avenue, 2nd Floor) After a week long of celebrations, Fado Irish Pub is celebrating with their second-annual Paddython. Starting at 8 a.m., patrons will kick off "Super Saturday" with pints & pancakes, which includes all-you-can-eat pancakes and two pints of beer. Following a hearty breakfast, guests will be able to enjoy a free outdoor block party that begins at 1 p.m. with live music, a DJ and a series of outdoor events. The day will be filled with bagpipers, UZOO tribute band, Sekond Nature and a Irish dancer duo that will be show casing their traditional Irish moves

The Stage (170 NE 38th Street) Over in Midtown, The Stage is doing St. Patrick's Day Miami Style with Dia de San Patricio. Living up to their reputation as Miami's premiere live music venue, there will be a a string of musical performances from three of our city's most flavorful local bands. But those looking for green beer steer clear; $5 mojitos is the only way they are going green.

Beer Snob Pub Crawl (625 Lincoln Road) If you are looking to burn off your green beer calories, we suggest you join the Beer Snob Pub Crawl. Traveling by bike, they day will be begin at 4 p.m. on Lincoln Road at Zekes. From there, they will head to The Abbey, Wood Tavern, The Corner, and The Filling Station. But be careful: a CUI (cycling under the influence) actually exists.

Brickell Irish Pub (1451 South Miami Avenue) If a party with your 10,000 closest friends like the perfect way to spend your Saturday, head over to Brickell Irish Pub. Along with their neighbor Segafredo, they are throwing one of Miami's biggest street festivals. Starting at noon, they day will be filled with live bands, DJs, food special and most importantly: lots of green beer.