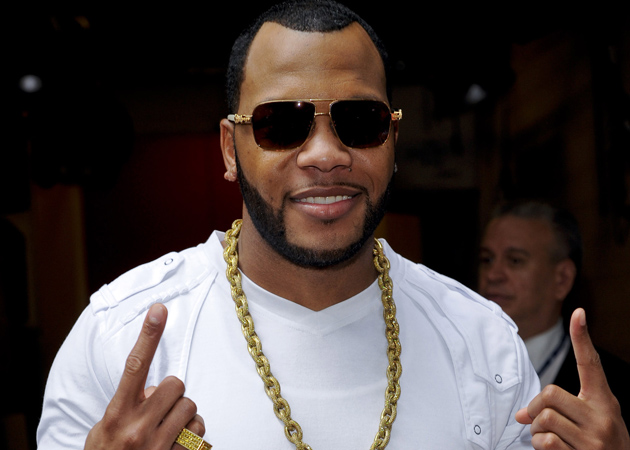 Are you one of those Miamians that is proud to have a 305 area code, rocks a Wade jersey and has season tickets to the Marlins? If so, there is no doubt you own a Flo Rida record or two. We mean, look at his name. If his moniker doesn't do it for you, his neck to lower back tattoo of the state might convince you.

Flo Rida, legally named Tramar Dillard, is born and raised Carol City. When it came to being signed, he looked no further than Poe Boy Music Group right here in Miami. Even when it comes to getting in the studio, its no suprise who he loves to work.

"Pitbull and Rick Ross," he told us Saturday night at the Fontainebleau before his insane performance at the iHeart Radio concert. (Let us mention: both artists are proud South Floridians, of course.)

Check out the rest of our conversation from the red carpet where we talked about everything from Etta James, his concert tonight at Bank Atlantic Center and for the ladies, where to find him when he makes his way back home.

Niteside: Welcome back to the 305, Mr. Flo Rida.
Flo Rida: Why thank you. I am so happy to be back home. It's always fun when I am here because I get the best of both worlds: I live on the beach and about 20 miles out.

What can fans expect from your show July 3rd at the Bank Atlantic Center?
Well, fans tonight will get a sneak peek. I would never perform a show where everyone in the room didn't go out-of-control and have a lot of fun.
If the ladies want to find you while you're in the 305, where should they go?
It mind sound cheesy, but Mangos is my spot. Its just the spot to let loose and have a good time. Can't go wrong there.

It seems that you and the rest of Miami's music moguls support each other.
The people of Miami are a family. It's just amazing. Pitbull, Rick Ross, Trina and so many others. Their careers have taken off, but we all come back here. There is just no place like it. It's a great time to be making music in Miami. It's a hot spot – in many ways. It's the city to be in.
How do all your song go to number one?
Every time I go into the studio, I make sure it counts. I don't mess around. If I go in and it takes two days, then it takes two days. I wont change clothes. I want to make great music. I want to produce great records. It's not just me – it's all about the people you have around you. I am somewhere because of my team. They give me their real opinion on my records.

Who have been some of your favorite people to work with?
I loved working with Pitbull. Rick Ross was great. My song with Etta James is one I am so proud of. It was such a blessing. I have been a fan of Cadillac Records and a fan of hers forever. It was a dream come true.

How did her death affect you?
It hit me hard. I was blown away. I was overseas and all I could think was, "Wow." I was speechless. The record went number one and then she passed away. I mean, It took a toll on me.