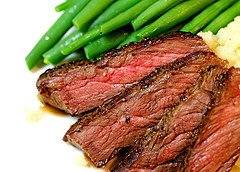 It's the hotel that sticks out like a colonial thumb amongst a sea of Art Deco fingers. But the architecture isn't the only thing making the Betsy hotel, which recently underwent major renovations, something to point at. Nestled inside lies chef Laurent Tourondel's BLT Steak, the first of the meat master's Miami-based endeavors.

Leave it up to a French-trained chef to revamp the American steakhouse concept. After causing a commotion in New York, Tourondel headed south to beef up Miami's restaurant scene. Named "Bon Appétit's" 2007 Restaurateur of the Year, Tourondel fuses good old U.S. of A. Prime, Angus and Waygu beef with French influences.

But the meat isn't the only think making the masses moo. Maybe you're heard about the popover. Yes, it's true; the signature giant gruyere cheese popovers are something to write home about. Be sure to bring your big purse, so you can sneak a few back to su casa. Just save room for desserts like cheesecake with melon syrup and crêpe soufflé with passion fruit sauce.

If you can pry yourself away from your plate for just a second, note your surroundings. They're the brainchild of Michael Bagley, whose goal was to marry steakhouse chic with a modern urban vibe. Chose to sit inside in the 88-seat venue or out on the porch where you can watch the South Beach spectacles pass by. And they'll look back at you with envy, knowing gourmet beef from the kitchen of Tourondel is for dinner.