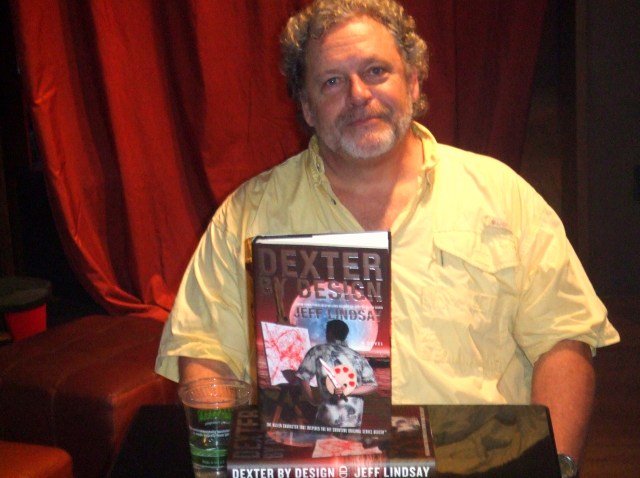 Jeff Lindsay dispelled the notion of Dexter's righteous indignation, and the belief that America's favorite serial killer is a vigilante. The author -- whose bestselling series on the exploits of a Miami forensic expert turned serial killer spawned the hit Showtime drama "Dexter" -- was signing copies of his most recent "Dexter By Design" at Coral Gables' Books & Books last night.

As a writer from Miami who graduated from prestigious Ransom Everglades, what experience gave birth to Dexter? I was giving a talk at a luncheon for the Kiwanis Club. As I gazed around the room that was full of real estates agents, insurance agents and other assorted shills and hucksters the idea popped in my head from nowhere that serial murder is not always a bad thing.
In the novels, Dexter is incapable of harboring sentiment, but Showtime depicts a more humanized vigilante as opposed to cold-blooded killer. Let's get one thing straight: Dexter is not a vigilante. If it wasn't for the code (kill people who are killers themselves) Dexter would kill me and you. The code also enables him to go on feeding his murderous appetite undetected. Showtime has been humanizing him a bit every season. That comes with the territory when TV writers have their own vision of the story.
Since cutting ties after the first season, except for a cameo in the third season, you've been outspoken about staying away from production. I'm serious when I say I really don't want to go back to Hollywood ever again. The only thing that makes it different from coal mining is that you die sooner but you get paid a bit more by the hour. I love my life the way it is, but I do like cameos.
Dexter has been the subject of media controversy after two killings in which the suspects said their actions were influenced by the TV character. If a book turns you into a serial killer, either it's the greatest book ever written or you were 90 percent of the way there already. I'm not trying to duck guilt. If it wasn't Dexter, they would blame it on CSI. No book has that power.
You seem consumed with Dexter. Do you ever think of having him axed? Constantly. I thought about having his head smashed in with a brick and throwing his body in the river. My wife and agent have wisely steered me away from that. I've been writing plays as an alternative.