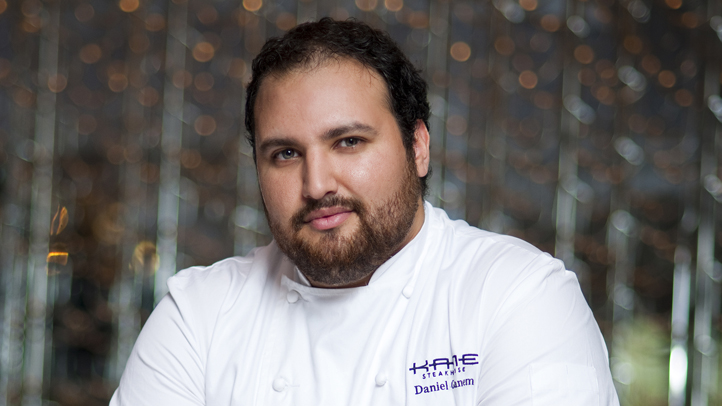 If there's one chef that knows steak, it's Daniel Ganem. The up-and-coming Miami native has come from the kitchens of Bourbon Steak and BLT Steak, among others. Adding to his steak savvy, he's worked under world-renowned Michelin-starred chef Martin Berasategui. Now he's adding fire to the kitchen of Kane Steakhouse, a chic, warm-hued restaurant newly opened on Fourth Street and Washington Avenue in Miami Beach (R.I.P. Tuscan Steak). Here, Chef Daniel talks Emeril Lagasse, his favorite spot on Bird Road, and how a little saving goes a long way when it comes to polishing one's cooking skills.
I'm sure all the dishes on each of your menus are like your children, but if you had to choose only one dish from the menu, which ones are you most proud of?
I am very proud of the organic deboned stuffed chicken, which I first made when I was 15 years old and now, at Kane, I can finally feature it on my menu.
Most popular item on the menu?
I believe that the bone-in rib eye will be one of the most popular items as well as our basil Caesar salad. Another great seller are the crab cakes.
How would you describe Miami's dining scene?
It's an up and coming culinary scene where a lot of the truly talented chefs are those who are out of the spotlight but like many, they are working their way up by working under named chefs.
The secret to cooking perfect steak?
Have great quality of meat with great marbling, it makes a steak go a long way.
At what point did you realize you were destined to be a chef?
When I was 15, I used to watch Emeril Lagasse on TV. I used to try to cook some of his recipes at home, such as the stuffed chicken, which I made one day for a family lunch and it turned out perfect.
I always told to my parents that I wanted to be a cook and my father used to tell me I was going to be selling hot dogs in New York's Central Park and my mother used to tell me that I wouldn't be able to celebrate the Christmas holiday anymore, because of restaurant schedules. However, I didn't listen to them and went on to pursue my dream.
The 5 ingredients every kitchen should have?
Salt, pepper, sugar, lemons, olive oil.
The 5 utensils every kitchen should have?
Great spoons, sharp knives, sheet pans, a few good pots, and a thermal circulator.
First dish you learned to make?
I first learned to make stuffed grape leaves with beef and rice because it's a family tradition. I used to help my grandfather roll the leaves and cook them to perfection.
Favorite dish to make at home?
Spanish tortilla is a great dish that can be cooked very fast and it's easy to make. When I lived in Spain, I worked as a cook for Michelin-starred chef Martin Berasategui and he showed me a simple and easy recipe for Spanish tortilla.
What's your favorite food to eat? In other words, what could you live off for the rest of your life if you had to?
When I lived in Chile, there is a dish that I love -- it's a corn pie with ground beef, chicken, raisins, hardboiled egg, and olives. Here in Miami I'm able to indulge in this dish at Pamela's Delicatessen on Bird Road.
Tell us a little more about your restaurant.
Kane Steakhouse is a modern American Steakhouse. We cook our meat at 1700ºF in a Jade Double Broiler, which is one of the best pieces of industrial kitchen equipment on the market. This process requires a lot of finesse and a lot attention to detail, so we are able to serve the best steak, poultry, and seafood. We also offer classic steakhouse dishes such as appetizers, side dishes, desserts and innovative cocktails. Our cuisine and service makes for an unforgettable dining experience.
If there's one tip or piece of advice you could give to all aspiring chefs out there, what would it be?
I'd advise chefs to save money and travel around the world to work with the best chefs. I believe that by working with the best you will become the best.