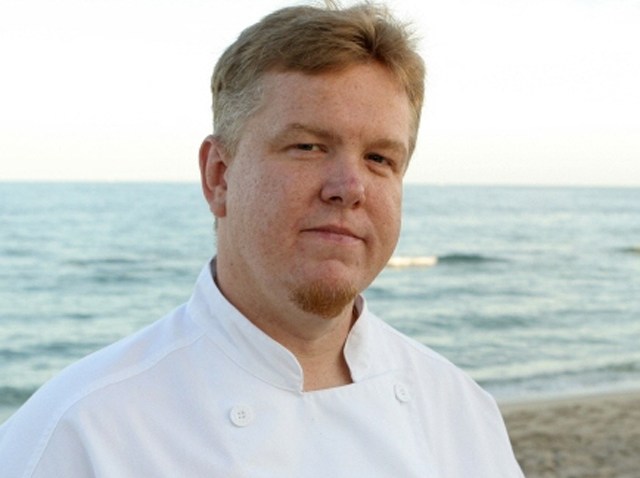 Chef de Cuisine Dwayne Adams has been in the business long before most of us went on our first date. Starting out as a dishwasher and chef's helper at such a young age, he was already one of the youngest food production managers the Marriott had ever employed at 20. Who would've thought that fateful meeting between him and Johnny V would lead to such culinary awesomeness? However, his nationally recognized chef is just the beginning, and he still looks forward to what is next. We see a lot of delicious food in our future.
I'm sure all the dishes on each of your menus are like your children, but if you had to choose only one dish from the menu, which one are you most proud of?
Honestly I'd really like to say the specials, because everyday I'm given the chance to work with something new and work with fresh ingredients. I'd definitely say the Mushroom Pancake at the moment, it's a pancake that's not necessarily sweet but savory and has shiitake inside. Inside the pancake layer there's Portobello too, and I top it with balsamic syrup. I reduce it and add sugar to it. It has the sweet, but added acid to it. I also add sun-dried tomato and butter.
Most popular item on the menu?
I would say the most popular it is the corn-crusted yellowtail snapper. We cut fresh corn and roast it in the oven, and grind it into cornmeal, which gives it its sweet savory taste.

How would you describe Miami's dining scene?
I would say there's a lot of really great places out there, but only some of them get recognized. There's a very wide selection, just whatever you want, you'll find it. There are different places and different things. I think Fort Lauderdale gets underrated while South Beach gets overrated sometimes, honestly; and I've worked in South Beach for a long time.

The secret to cooking perfect pasta?
I occasionally serve pasta items on the menu, so I would say to definitely make sure your water is boiling before you drop your pasta in, and when you put it in, stir it so it doesn't stick together. And you need to pull it out almost before you think it's ready so it doesn't overcook. To cook al dente, cool in cool water and rinse off the starch. It makes a big difference.

At what point did you realize you were destined to be a chef?
Whoa, I would say at a very young age, I was already working in the kitchen before most people went on a first date. When I was 16, I was made chef at a Chinese restaurant, in my high school years. Age-wise I would say I realized at about 18-20, and I was really interested in doing it at that age. And I had so much experience before then, I realized it would be a great avenue to go down.

The 5 ingredients every home kitchen should have?
Kosher/sea salt, fresh pepper is a must, eggs for sure, so versatile for so many different uses, butter, and garlic.

The 5 utensils every home kitchen should have?
A good pair of tongs and a whisk/whip. After the whisk would be a sharp knife, ladels, and either a spatula or a good set of pans.

Your fondest food-related memory?
I would say being on Iron Chef America, definitely. There are just quite a few that I've had, I've done James Beard dinners, and a benefit for a friend for cancer, which wasn't working for a while so I called in my contacts, and my fellow cyclists, so I had a big benefit and had 130 people show up and raised over $6,000 that day. It felt great.

First dish you learned to make?
Popcorn. I don't know if you could consider that a dish, but I was a master of popcorn. They had a show and tell one day, and I went to make popcorn on a hotplate, and didn't know that it didn't turn off like a gas stove did, so I ended up burning my popcorn [laughs]. The first official dish was Kumala, a Norwegian potato dumpling, and my mother and grandmother showed me how to make it. What you do is get a ham with the bone in it, boil it, cut the meat off of it, and make the dumplings about the size of a tennis ball and stuff the ham in the dumpling, and put salt and pepper and butter on it.

Favorite dish to make at home?
I would still say the grill. Grill meat, fish, vegetables, sweet potatoes, and when you're done, you drizzle some honey sauce on them, and people love them.
What's it like working with Johnny V?
It's great. I get the freedom to do what I want, and at the same time we collaborate on things, and give ideas back and forth, and it's really good that he trusts me, which is something that's needed for any collaboration to work.
So, you cook alligators?
Yes. [I usually do] the Alligator Fritters, which are fried, and the alligator cakes, which are cooked in a sauté pan. You have to make sure it's cut small because of the texture of the meat. The alligator has a neutral flavor, which lends to whatever flavors you put around it. You would think that I get a lot of off-put or disgusted looks when you hear "alligator", but what I do is just upstage it by making it into a cake, you know, and it just makes it so tasty.