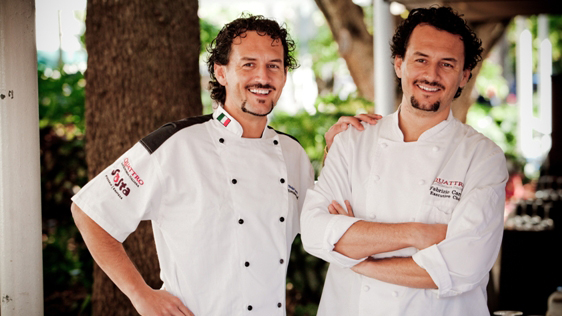 Here's something you don't see every day in the foodie world: twin chefs! Nicola and Fabrizio Carro share more than just looks, including an equal passion for cuisine. These rising stars give their patrons at Quattro Gastronomia Italiana authentic Northern Italian cuisine -- and why not? After all, the pair are authentic Italians themselves, from the province of Alessandria. Does that mean double the trouble or double the deliciousness? We're thinking the latter (okay, maybe a little of both).
I'm sure all the dishes on each of your menus are like your children, but if you had to choose only one dish from the menu, which one are you most proud of?
We are most proud of Agnolotti Alessandrini, which is a braised beef ravioli with Piedmontese sauce. It is the first dish we ever learned to cook, it's from our home in the Piedmonte region of Italy.
Most popular item on the menu?
Eggplant parmigiana and cheese ravioli.
How would you describe Miami's dining scene?
I think Miami's dining scene is relaxing and unpretentious. I like that you can kick back in shorts and enjoy a five-star meal.
The secret to cooking perfect steak?
First, choose a nice cut of beef and season it properly with salt and pepper on both sides. I like to grill the meat and then let it rest for a few minutes before serving.
At what point did you realize you were destined to be a chef?
As children, we were always surrounded by food and I knew then I would always be cooking.
The 5 ingredients every kitchen should have?
Italian salt
,
extra virgin olive oil
,
Parmesan cheese
,
Basil
, and
passion.
The 5 utensils every kitchen should have?
A good knife set, mixer, blender, balance, and a slicer.
First dish you learned to make?

Favorite dish to make at home?
Risotto with porcini and Robiola cheese (with a nice bottle of Barolo, of course)
.

What's your favorite food to eat? In other words, what could you live off of for the rest of your life if you had to?
Italian food-- I can't live without it!
Tell us a little more about your restaurant.
Quattro Gastronomia Italiana is a traditional northern Italian restaurant, where the quality of the food and the attention to service are primary. Every dish is truly Italian and made with Italian products. We do not sacrifice quality for any reason at any time. We are celebrating our fifth anniversary in August and we are proud of what we have accomplished.
If there's one tip or piece of advice you could give to all aspiring chefs out there, what would it be?
Have passion and be yourself. Do not ever imitate anyone. Take what you can from your experiences from other chefs, but make it your own. Make it special.