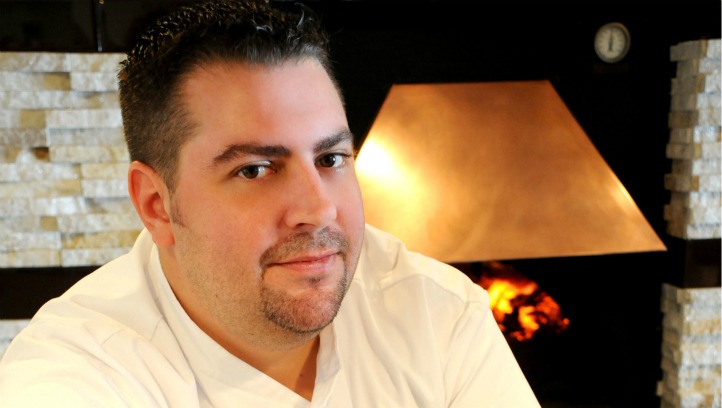 Growing up in Rome sounds dreamy, doesn't it? Well, that's where Rickie Piper, Executive Chef at D'Angelo Trattoria, spent much of his life--- it's also where he realized his love and passion for cooking. Piper has studied under some of Italy's most prominent and award-winning chefs; he's also been in the kitchens of top fine dining restaurants in Germany, Florence, and throughout Europe. Although he loved the country of his family, he always dreamed of returning to the U.S. where he was born. That came true in 2011, when he was invited by acclaimed chef Angelo Elia to be at the helm of his popular restaurant, Casa D'Angelo. He tells us here about his Delray Beach restaurant, his time in Rome, and his favorite holiday meal.
I'm sure all the dishes on each of your menus are like your children, but if you had to choose only one dish from the menu, which ones are you most proud of?
The wood oven roasted milk-fed piglet. It's tender and the taste is delicious. It's a very unique dish and if we have a large party request, we even do the porcetta, a whole roasted pig.

Most popular item on the menu?
Definitely, the pappardelle with sausage and baby meatball ragout. Customers can't stop talking about it. The combination of the sausage and baby meatballs makes it really flavorful. We have people coming back regularly asking for it.

How would you describe South Florida's dining scene?
Very unique and very impressive. There are so many different ethnicities and cultures here and so many dining options. I think we have some of the most talented chefs in the country and we are recognized for our great dining scene.

The secret to cooking perfect pasta?
Salt. It doesn't matter what kind of pasta you are cooking. You must use salt. Also, don't overcook the pasta. There's nothing worse than mushy, soggy noodles.

At what point did you realize you were destined to be a chef?
When I was 8 years old, I knew I had a passion for food and for cooking. I remember being in the kitchen with my family, the great smells. Everyone was happy and having fun, and I loved to help make people smile with food I made.

The 5 ingredients every kitchen should have?
Olive oil, salt, garlic, pepper, and white wine.

The 5 utensils every kitchen should have?
Knives, tongs, laydle, whisk, and a strainer.

First dish you learned to make?
Sausage and ricotta lasagna. I learned it from the women in my family when I was a kid and remember being so happy when everyone loved the dish and was smiling.

Favorite dish to make at home?
Spaghetti with garlic and oil. It's simple and easy, but it is always delicious. Whether it's a quiet night at home or if you have friends and family over, this is a dish that never disappoints.

What's your favorite food to eat? In other words, what could you live off of for the rest of your life if you had to?
Ribeye steak, hands down. I could eat this every day if I had to and be happy. Also, spaghetti with garlic and oil. I could survive forever on both of those.

Tell us a little more about your restaurant.
It has a rustic feel and it's just like the trattorias in Italy. The food is traditional Roman, the atmosphere is cozy and rustic. We have great al fresco dining on the back terrace or front porch. We also have a beautiful wine display and a great bar. It's the perfect place for a date, a family dinner or a special occasion. There's something for everyone.

If there's one tip or piece of advice you could give to all aspiring chefs out there, what would it be?
Never think you know it all. Be open to learning and listening. You'll always find someone out there who knows something you didn't know. Take it all in and develop your own style and technique, using what you learned.

What's your favorite Holiday dish, and how do you prepare it?
That's easy: Beef Wellington. You just pan-sear prime beef tenderloin with fresh herbs and cover with duck paté and black winter truffle; then, you wrap with puff pastry and egg wash. Put it in the oven for 25 minutes at 350 degrees. And voila!