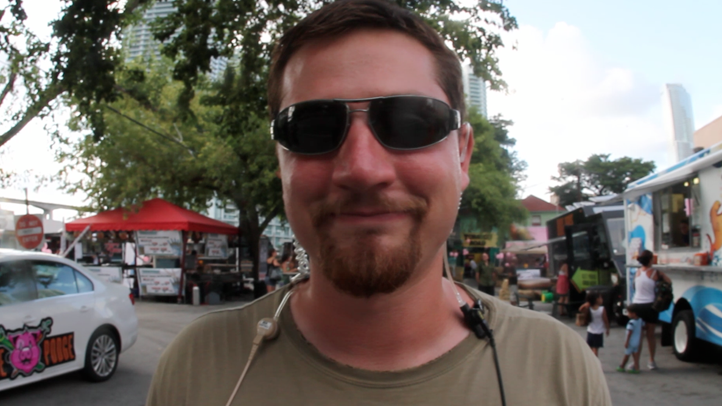 It's a far cry from his previous work on 'The Showbiz Show' and 'High School Musical', and not just because supervising producer Noah Mark has just driven from L.A. to the Atlantic. It's because for these stars, 'blowing a gasket' means a trip to the mechanic, not a top slot on TMZ. 'The Great Food Truck Race' is a bit like Family Double Dare crossed with Top Chef, and after a multi-city tour -- and six eliminations -- the whole rolling, plating Food Network-fueled carnival caravaned into Miami this weekend to shoot its season 2 finale. While the two food truck finalists spent Saturday and Sunday battling against each other for a $100,000 grand prize, NBCMiami caught up with Mark at Tobacco Road and grilled him about all things GFTR he was allowed share -- without spoiling it, of course, before its August 14th air date.
How long have you been filming season 2?
We started filming seven weeks ago.
What's the biggest adventure you've had on the show?
The journey we've taken with the show across the country. This is the second season that we've done this show, the first season was incredible, and this season is just as good if not better.
Is it true you're not allowed to taste the food of the trucks competing on your show?
That's true. As producers on the show, we can't eat the food that the trucks are serving. It's very unfortunate, because we do interviews all day with people who are eating the food -- and they will almost all tell you it's delicious.
Is this the hottest place you've filmed?
Actually, it isn't quite. I can't say where the hottest place was -- you'll have to tune into the show and find out! This is almost the hottest city.
Has coming to Miami to film changed your impressions of the city?
I've been to Miami a lot, but being at Tobacco Road, the oldest bar in Miami, definitely has changed my opinion. I've gone to South Beach a lot, and you get one type of scene there. This is a very different scene, and it shows the diversity of the city. It's really cool that we ended up shooting here, because it showcases a side of Miami people don't necessarily think of when they think about Miami.
We're at a food truck rally at which some of the local trucks have worked hard really hard to help out one of your finalists. Do you find that cameraderie among trucks everywhere, or does each city seem to have its own particular food truck culture?
The food trucks are on our show employ different strategies depending on which city they're in and whatever they think is going to help them the best in that city. We've gone to cities where there aren't local food trucks. But there's a strong food truck scene in Miami, so some of the trucks on our show thought it was a good strategy to partner up with local trucks to tap into their followers through social media and word of mouth.
Have you tried any of the local Miami trucks yet?
I haven't had anything [to eat] yet today!