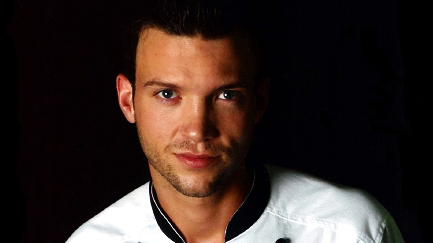 Family and friends told him he would be great even before he considered it. Now, after ten years plus of experience, Chef Todd Erickson is still both dedicated to and inspired by fresh ingredients -- he's on the go each day with local farmers, constantly seeking improvements to the menu. His cooking style reflects his passion for travel and regional cuisine, which is what leads the small plates menu at newly-opened Haven Lounge. But sweets lovers beware: his freshly made nitro ice cream will keep your sweet tooth coming back for more.
I'm sure all the dishes on each of your menus are like your children, but if you had to choose only one dish from the menu, which ones are you most proud of?
First, I am most proud of the entire collection of small plates. I put a lot of thought and time into it as a whole in order to enable our guests to create an international journey as seen through small plates. I love the progression of flavors through crudo and rolls then skewers, sliders and finally our amazing ice creams. I can tell you that if I were to come in as a guest, I would order the following: lobster-scallop ceviche, sweet frites, crackie pop roll, Chesapeake skewer and the duck duck slider.

Most popular item on the menu?
Crackle pop roll: Rice Crispies in the roll are the lure. The flavor spank keeps them coming back.

How would you describe Miami's dining scene?
Eclectic. Vibrant. Progressive. Classic. Global.

The secret to cooking perfect pasta?
A big pot of well-seasoned heavily boiling water. Not overcooking. Not serving wet.
At what point did you realize you were destined to be a chef?
Friends and family were telling me that I would make a great chef way before I had considered it to be a viable profession. It seems I was the last to realize this was what I was meant to be doing. Once I had the epiphany though, I was full throttle and never looked back.
The 5 ingredients every kitchen should have?
Sea salt, white truffle oil, European butter, champagne vinegar, fresh garlic.
The 5 utensils every kitchen should have?
KitchenAid mixer. MicroPlane. A very sharp chef's knife. Immersion blender. 10" stainless sauté pan.

First dish you learned to make?
Shrimp toasts with my grandmother at age 5. I still remember the recipe.

Favorite dish to make at home?
Meatloaf with candied tomato glaze, white truffle mac and cheese, and braised kale and collard greens.
What's your favorite food to eat? In other words, what could you live off of for the rest of your life if you had to?
I love comfort food. Rich, carbohydrate-laden foods that are known to induce "food coma."
Tell us a little more about your restaurant.
I like to think of Haven as a high end, high tech living room. An amazing space to entertain guests and enjoy amazing food along with inventive fresh cocktails. You can curl up along one of the sleek leather banquettes and chill or belly up to one of the bars and have a very interactive foodie experience. I love the idea of sharing this gorgeous intimate space with the locals, having a one on one experience with each of them and knowing that they are receiving the best combination of food, drink, service and ambience available anywhere on the beach.
If there's one tip or piece of advice you could give to all aspiring chefs out there, what would it be?
Don't count hours. Count experiences, interactions and accomplishments.