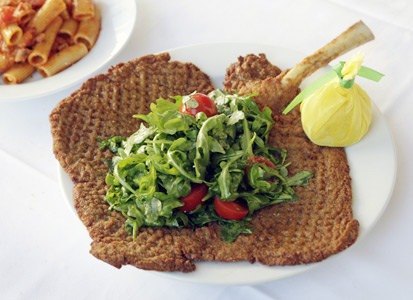 When something is named after you, it really is an honor. Chef Vittorio Lozzi knows exactly what that honor feels like.
Executive Chef Lozzi is not the owner of the restaurant. That's socialite Fabian Basabe, who has had Lozzi in is his life as long as he can remember: the chef has been in Basabe's family's kitchen since he was a child. So when Basabe opened Da Vittorio in December 2008, he knew exactly the man he wanted behind the stove.
Lozzi, who was born and raised in Rome, is a master in culinary arts and delivers Italian classics just as they should be. To call his food Italian genius is actually an understatement; his classics, like spaghetti alla carbonara or cotolletta alla milanese, are all recipes created from his Italian roots.
The chef sat down and told us exactly what he thinks you should have in your kitchen and how he acquired those skills.
I'm sure all the dishes on each of your menus are like your children, but if you had to choose only one dish from the menu, which ones are you most proud of?
Most definitely our Costoletta alla Milanese - it's one of our signature dishes. It is an enormous veal chop, on the bone, pounded and breaded and served with a salad of rucola and cherry tomatoes. We call it Orecchio d'Elefante, as it is know in Italy. It literally means "elephant ear" and it takes its name by the way it looks. The pounding technique makes it very slim and very large. It is phenomenal and we have customers who actually come just to have it because we are the only restaurant that makes it.

Most popular item on the menu?
We have a couple, but our most popular would be Spaghetti alla Carbonara. We stay true to the Italian recipe rather than adding too many ingredients. This dish is light, tasty and satisfying! Some ingredients include battered eggs, fresh gounded black pepper and imported Pancetta, not bacon, because we believe that a few exceptional ingredients, instead of many average ones, make the dish extra special.

How would you describe Miami's dining scene?
Of course it is difficult to generalize since there are so many different aspects to the city of Miami. In Coral Gables, we have noticed that our customers come to us to indulge in great food and to spend time together. So we mostly attract true foodies. In South Beach, I believe customers look for places with more of a scene, rather than quality food.

You never had any formal training, how did you become such a great chef?
Every Italian mom is a great chef! And every Italian child grows up in the kitchen with her. I paid attention and I learned. When I moved to the States I had to reinvent myself because I was not authorized to practice law, my career. I decided to put to good use the secrets of Mamma.

Da Vittorio is doing very well here in Miami. What makes Da Vittorio so special?
Thank you for the compliment. I think our customers return to us because we really made an effort in the quality of the food. What we can, we do in house, otherwise we import a lot from Italy, or buy only from suppliers that we choose carefully and know that have controlled, organic and quality products. People can taste the difference.

You have worked in a lot of great cities. Favorite place you have lived so far?
Roma.

At what point did you realize you were destined to be a chef?
Sometime in the last 30 years.

The 5 ingredients every kitchen should have?
Extra virgin olive oil - which must be of excellent quality
Salt
A vegetable - any kind
Flour
Water

The 5 utensils every kitchen should have?
Wooden spoon
Colander
Grater
Knife - a sharp one
Pan

First dish you learned to make?
Abbacchio, lamb.

Favorite dish to make at home?
Pasta all'Amatriciana.

Favorite food-related memory?
Too many to say.