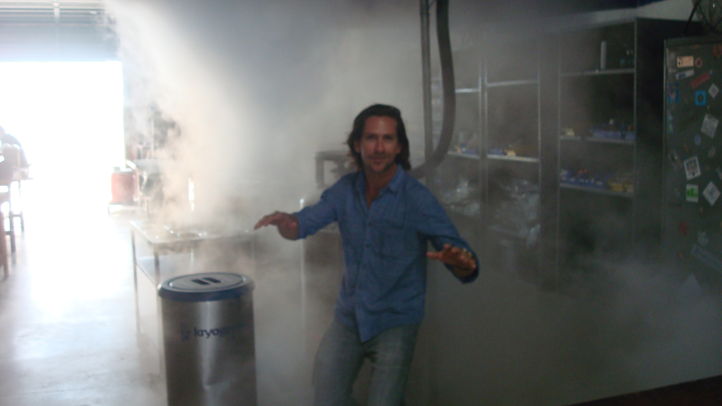 Special events deserve very special effects, and few other companies are capable of effecting and event as Kryogenifex. The decade-old Miami-based outfit has worked its magic at every venue in town, then and now, not to mention some of the most prestigious hotspots the world has to offer. Niteside got founder/president Alejandro Gonzalez to give us the lowdown in advance of Saturday night's Bardot blowout with Krisp and Baio.
In a sentence (or three), what exactly is Kryogenifex? A liquid nitrogen special effects company which creates and supplies automated atmospheric systems for premier nightclubs. We also have a Kryokitchen® division that supplies liquid nitrogen and several proprietary applications to premier restaurants.
What are some of the venues you've worked with in South Florida? LIV, Space Miami, Amnesia, The SLS Hotel, The Fontainebleau Hotel, The Ritz Carlton, Haven Lounge, The W, Hard Rock Hotel, and many more.
And around the world? Around the U.S. we do work with the Marquee in Vegas, Greystone Manor (LA), Lure Hollywood (LA), Colony Nightclub (LA), Playhouse (LA), Provocateur (NYC), Pacha (NYC), Santos Party House (NYC), Lavo (NYC), Hudson Terrace (NYC), Cielo (NYC). And worldwide we have worked with the Prism (Dubai), Star at the Marque (Sydney), Oro Nightclub (Dominican Republic), and with BPM productions throughout Europe.
What about artists and entertainers? We have worked with well-known artists such as Skrillex, Carl Cox, Swedish House Mafia, Datsik, Kaskade, Fallout Boy and many more.
Speaking of which, don't you have some special something planned tomorrow night with Krisp? Yes we do, we'll be setting up one of our Kryo® systems at Bardot Miami where Krisp will be hosting their album release party. We have a great relationship with Krisp and are excited to be a part of their new release.
Where else can we expect to see Kryo magic being made in the new future? You'll be seeing us everywhere in the coming months. From new jobs in traditional spots like Vegas, Los Angeles, New York, and Miami to all the way in South Korea. Needless to say we're excited about the future of Kryo®.
Krisp plays Saturday, Aug. 18 at Bardot. Find out more about Kryogenifex here.