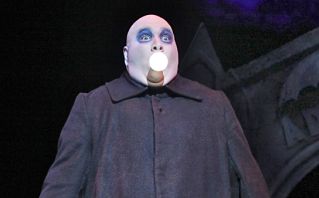 They're creepy and they're kooky. Mysterious and spooky. They're altogether ooky. And they're spending the week leading up to Halloween in the Ziff Opera House at The Arsht. Yes, we mean The Addams Family, who really are a scre-am. Niteside asked Blake Hammond about resurrecting Uncle Fester.

What's the primary difference between acting in revivals and "original" musicals that are based on movies? The biggest difference is the rehearsal process. Working on revivals, the script rarely changes. (It's hard to improve on The Music Man book and score for instance). But when working on a new musical, you are getting new pages each day and sometimes new scenes even during previews. Challenging and exciting!

Both forms come with a kinda loaded history. Are you sometimes intimidated by those who've played the roles before you, or is it more akin to standing on the shoulders of giants? I would say I'm never really intimidated, so I guess I like standing on giant's shoulders.

How deep do you dig into your predecessors' portrayals? For some roles, it helps a great deal to take cues from those who have played the role before (Stubby Kaye in Guys and Dolls), but I hopefully use them for inspiration not for my performance.

Which previous portrayal(s) of Uncle Fester did you find most inspiring -- TV, cartoon, animated or movies? The Charles Addams drawings of the family were my biggest inspiration. Dark and hilarious!

Did you also take heed of either Kevin Chamberlain's and/or Brad Oscar's Broadway stagings? Though they're both fantastic, I didn't really use Kevin or Brad's choices for my version of Fester. But Kevin did recommend the best shaving cream and razor for maintaining my bald head.

Is your Uncle Fester as electric as the original? Fester does show off his electricity in the stage version. It's just who he is! You'll have to come see the show truly appreciate.

What other attributes and/or afflictions has he been given? I don't think he has many afflictions, but as far as attributes -- well let's just say he's kind of magical in a wonderful way!

Are there any of these attributes/afflictions you wish he had less or more of? No way, I love him!

Is there a chance some of Uncle Fester will live within you long after you've finished the run? Absolutely. I think one of the great discoveries about being an actor is that these characters already live inside of you. It is wonderful to be in touch with my inner Fester. May he live forever.

Do you think the world would be a better place if there was a little Uncle Fester in everyone? Indeed. He is mischievous, funny, full of passion, and wants everyone to find and be loved. Sounds pretty good right? I think the world could use a little more Fester!

The Addams Family runs October 25-30 at The Adrienne Arsht Center for the Performing Arts. For more information log on here.