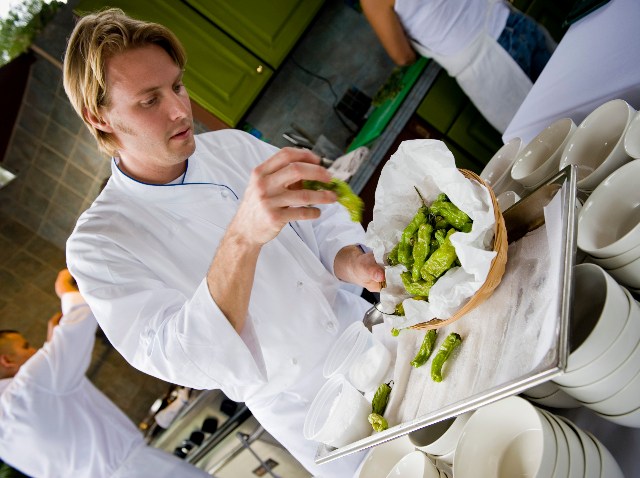 Anybody who's been outside of their house over the past month or so knows that gigi is now the eatery to be. And were it not for the fab food of executive chef Jeffrey McInnis, being there would be a whole lot less edifying. Of course it doesn't hurt to be backed by the cat behind both Bardot and Bond St. But gigi is truly a singular sensation all its own. Niteside got with McInnis late Saturday night.

For the few who don't yet know, can you please tell us about gigi? gigi's concept is one of good food, smart pricing, Asian-inspired, unpretentious food. The restaurant dining room is completely open to a very open kitchen. You can sit, order, watch your food get made, talk to the chef about your food while he's making, ask questions about the dishes, eat and critique from your bar stool. We are very much an industry/late night locals spot.

Why the name gigi anyway? The owner, Amir Ben-Zion, dreamed up this amazing concept and invited me to join him in a partnership a few months ago. He had a name -- LuLu -- in mind, which I don't think any of us were too excited about. Amir is the owner of Bardot, which he named ... after Brigitte Bardot. The name gigi stems from the 1958 film. It's basically is about a woman who refuses to be untrue to herself and gets her dream. Bardot is the staring actress. Needless to say, Amir is a big fan of hers. He tries to name his businesses after famous women or women that have done something important in the world.

When I swung through for a dynamite bite, the place was hopping almost like a nightspot. Was that kinda action intentional -- or inevitable (knowing the association with Bardot)? I'd say inevitable, the owners chose this building as a foresight into such a wonderful communal neighborhood with the if-you-build-it-they-will-come attitude. We knew we had a great concept and the pieces just fell into place. We're well-priced, focused on flavor and offering something to locals that's not common in Miami -- unpretentious food and service, affordable, late night and food that f------ rocks. With those key factors gigi was destined to be a hot spot the moment we opened the doors.

It also helps the neighborhood is full of young professionals that are sick of getting the same old food at crazy prices that unfortunately Miami is known for. We have so many locals that have already become regulars. I literally have 20 to 30 people that eat at gigi four to five times a week. In my entire culinary career I've never experienced this kind of local following this quickly. Usually you have to earn the locals respect over months, years -- but not this time. Gigi is different, breaking the rules and into a new direction that Miami has been craving for a long time.

You were also one of the finalists in Season Five of "Top Chef." How did that come about and what did that do for your career? I was fortunate enough to have a great chef friend of mine Sandy Birdsong recommend me to the TC producers -- the interview process is immense. To have chefs like Emeril, Grant Atkins, Jean George Vongerichten and Scott Conant eat what I cook and then critique on what I did right, wrong or just talk to you about food is something I wouldn't trade for anything else in the world. It was great and a big learning experience. Career-wise I guess it's helped. I'm still cooking daily, washing dishes, taking out the trash and doing all the same chores that I've always done and loved.

You were born in a town called Niceville, and you are indeed one of the nicest guys in town. Is there any connection? Thank you. Well, I'd say it had a lot more to do with my upbringing, my family is Southern and traditional. I was just brought up to be respectful.

Speaking of locales, you've kitchened-up everywhere from St. John to San Francisco, and you've created concoctions that embrace the flavors of whole wide world. Would you consider yourself an Internationalist at heart? I do love to travel and of course I love to cook, I really enjoy embracing other cultures and learning different ways of doing something in the kitchen so I can take that and create a take of it on my own. I've been in charge of several kitchens/restaurants in my career: Thai, Southern/comfort food, Japanese, Middle Eastern and now gigi. I've always said that I never want to be a chef that pins only one cuisine on his repertoire. The world is too vast, and I'm only here once in one life time.

When you're not feeding the throngs at gigi, where in town do you most dig hanging out? Of course Bardot is a given. I enjoy Area 31, Gotham Steak, the new Rooftop Bond Street at Townhouse, 3030 Ocean, Wish and Shore Club. I also just like to be on my boat fishing or wake boarding. And I look forward to surfing if I can ever get time.