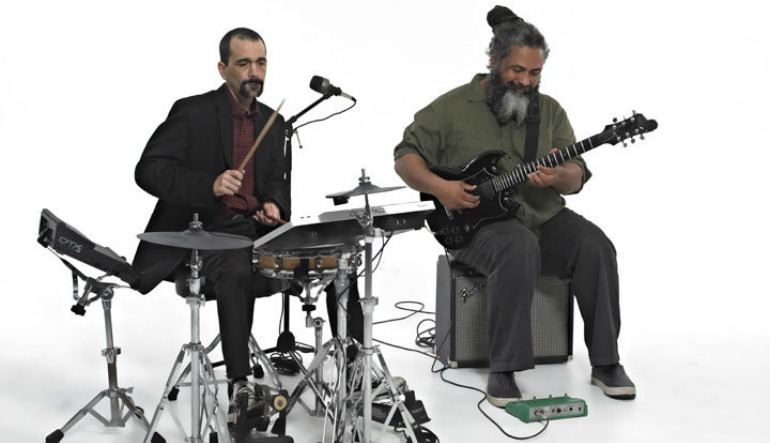 Their names are rooted in myth and legend, as well as how we're named. Their sound is founded in the breaking of ground and the opening of vistas far and wide. They are Buffalo Brown and Brave Ulysses, who operate as Cognomen, undoubtedly one of the most sonically adventurous outfits in town and out. Got doubts? Hit Joey's Thursday and find out for yourself.

Who (and what) is Cognomen? Cognomen is old Latin for surname, nickname or in other words name... What's the band called? Name. Most people don't have a reference point to the word, so they can listen to the music with an open mind and ears. We use it as two words Cog Nomen.

Speaking of names, what's the story behind Buffalo Brown and Brave Ulysses? Buffalo came to me in a series of tales and folklore: There's the legend/prophecy of the white buffalo heralding peace on earth; and in Yoruban derived stories "Oya" the wind goddess disguises herself as a buffalo. The story that [truly] convinced me of my path was actually a book called Autobiography of a Brown Buffalo by Oscar Zeta Acosta, who was a Chicano attorney in the '70s during the West Coast Brown Power movement. Oscar is the "Dr. Gonzo" in Hunter S.Thompson's Fear and Loathing in Las Vegas, and his Autobiography was the only book he wrote before mysteriously disappearing off the face of the earth. To me the path of the Buffalo represents Stoicism, Abundance and Sharing.

As for Brave Ulysses, well, his name really is Ulysses (Perez). I once saw him stop a woman from being mugged by a guy at a parking lot near the Miami River. The thief kept a hand in his pocket as if ready to use a weapon. Ulysses called his bluff and chased the thief away. That and his passion for innovation in music have me believing him to be rather brave.

Will you in any way be adjusting your sound to fit the venue? We record our songs live together in a room at an average but not loud volume. This is how we will perform at Joey's so people will be able to eat and carry on a conversation about how good and handsome we are. At larger venues we crank up the volume though.

Can fans expect the hear new material? We are half done recording our second album, and we will be performing a handful of new songs throughout the night. The new album should be ready and out by this summer.

What else does CG have on the near horizon (live or otherwise)? We will be performing at an art installation in Midtown called "stages" on March 3rd. And on March 15th we will play a live soundtrack to Holy Mountain by Alejandro Jodorowsky at PAX Miami

And for the foreseeable future? We are planning an East Coast tour next fall, including New York, DC, down to the Carolinas and Georgia.

Cog Nomen performs Thursday February 23rd, 8-11pm at Joey's 2506 NW 2nd Ave Wynwood. For more information call 305-438-0488 or log on here.