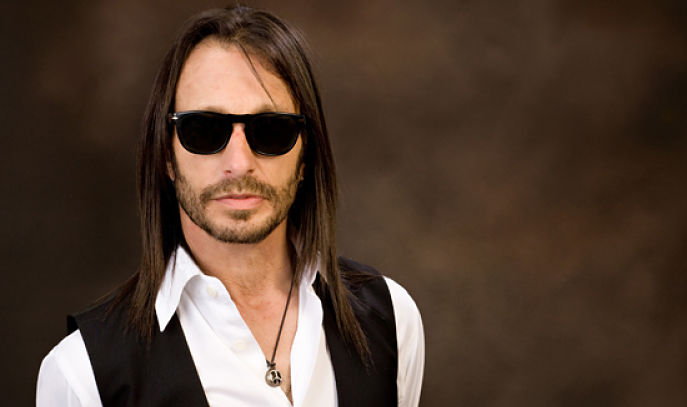 By day he swings scissors in his eponymous West Palm Beach chop shop. By night he's a singer-songwriter who springs out of New York City's Antifolk scene. He came to South Florida a decade ago as part of the "Artist Witness Protection Program", and he hasn't looked back since. Why? Because he's David K nee Kinigson, and forward is his preferred perspective. Hear how at Joey's Wynwood this Thursday night.

Is it David Kinigson or David K? BOTH ... I perform under the name of David K and as a hairdresser I'm known as David Kinigson creative director of thedavidKspace in West Palm Beach.

Just who and what is David K(inigson)? David K(inigson) has been called many things. Polymath, autodidact, renaissance man, the most famous haircutter you've never heard of, and oh yes, humble.

Does that mean you've got a bit of a split personality? Why settle for a mere split when you can be a paranoid schizophrenic with delusions of grandeur and borderline god complex.

When you're in song mode, what kinda sounds might we hear? The soothing sounds of Lite FM. My original derivative anti pop songs are lyrically driven love and anti love songs; that is to say, broken hearted, battered and bruised love songs; unrequited, sad and blue songs with moments of triumph, a smattering of humor and social relevance.

Will all that be evident at Joey's this Thursday night? If we are lucky.

How'd you come to play at Joey's anyway? I was performing my first show in three years at The Blind Monk in West Palm Beach to an SRO audience. Among the 150 or so fans who attended, sitting in a dark corner of the room, unbeknownst to me, was a 2Square scout named Chiara. She asked me if I like Italian food and sent me directions to Joey's. I will have my guitar and appetite with me Thursday night.

So you've already got in's in Wynwood -- what do you think of the 'hood? Reminds me of the creative energy back when artists ruled NYC. I even wrote a song about NY during that time. My hair salon is in Northwood Village which has similar artistic sensibilities.

Long way from West Palm Beach though, isn't it? I hear the pizza is great at Joey's. I would drive a long way for a good slice.

Even farther from New York, no? Yes, but... New York is closer than you think, because New York is wherever I am.

David K performs Thursday June 14 from 9pm on at Joey's Wynwood.