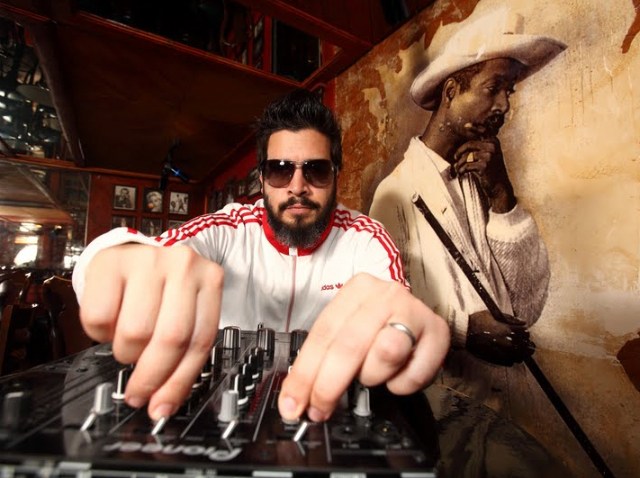 Miami may have many sounds to it -- after all, it's a polyglot town -- but of all the sounds making Miami move, none is perhaps more robust and enduring than that made by DJ Oscar G. In many respects, he and his many offshoots are the beat of our city. This Saturday night G brings his spin to Mansion, and by the time the last track fades into the night, there will be no question that this is what it means to be made in Miami.

This Saturday you're celebrating the release of you Live from NYC CD. Wanna tell us about it? This project features two discs. The first is a live DJ Set recorded at Pacha NYC. We mic'ed up the room so you can feel the crowd and energy during the set. I think it is the closest thing to actually being there. The second disc is a collection of original songs I've been working on over the last year. It features great artists and friends that I collaborated with also which made it really fun to create. Nervous Records has been the best label you can ask for. They give me complete freedom to do what I want -- you really can't ask for more.

How long have you been at Pacha? I have been playing at Pacha for several years now. I think I was their first non-NYC resident. It is an amazing room and incredible sound system. The energy and crowd response in that room reminds me of the old Space main room in its heyday.

You were a long-time resident at Space. That still goin' on? I just started a new residency at Mansion, Miami. I will be doing my monthly Made in Miami party there. I was at Space for 10 years. I thought I'd be there 'til the end but Space changed their layout and music policy during my last year there and I felt like I didn't fit in to the picture anymore. The main room, which I called my own, is now a hip-hop room.

You and your partner Ralph Falcon have released some of the most enduring dance tracks ever. Have you two anything else in the pipeline? We just finished a new song last week. I tested it this weekend at Pacha and the audience went nuts. I'm not sure what we're doing with it yet, but I'm feeling pretty good about it right now. Ralph is an amazing talent and we have great chemistry in the studio. I'm looking forward to what is next for us.

Didn't Nervous Records snap up the entire Murk catalog? Yes. We are working on a big project to celebrate our Murk 20th anniversary. Right now it's looking like a triple disc set including our Murk catalog, new material, a DJ mix and possibly a DVD.

What other releases have you got on tap? I have a track dropping this week that I did with my friends DMS12 and Edgar V on Nervous. It's titled "The Grinder." DMS12 is a good friend and hot producer at the moment and Edgar V is a legendary Miami DJ and one of my best friends too. I am also working on remixes for upcoming local guys Lazaro Casanova and Danny Daze.

Is there one other DJ in the world with whom you'd dig collaborating? I'll stick to Ralph!

What about artists -- have you a dream act you'd like to work with? Sade, Annie Lenox, Lady Gaga maybe!

Aside from the above, what else is coming up for Oscar G? I want to continue to build my Made in Miami parties/ concept. I have locked down residencies in Miami, NYC, Chicago and Orlando recently and we are working on taking it across the globe. I also want to continue to experiment with the live concept I have called Tropicasa. We play every Wednesday in Little Havana at Hoy Como Ayer. We have been doing this party for a year and a half now and it just keeps getting better. It is a very intimate setting and not tied in with any of the local promoters or political BS. It is a word-of-mouth gathering based around this experimental fusion thing we are doing as well as chunky underground house music. Lazaro Casanova is our resident DJ and the band consists of El Chino Dread-Lion (guitar/vocals), Philbert Armenteros (percussion/vocals), Michele Fragoso (piano/keyboards) and me on digital decks and keyboards. We have no guest-list, no dress-code, no VIP and no pretentiousness.