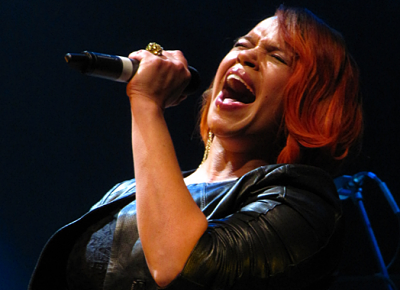 The one-time Bad Girl began by backing Mary J and Usher, married Biggie, and racked three wondrous LPs with Diddy's Bad Boy, garnering a Grammy for "I'll Be Missing You" along the way. On Capitol, The First Lady went #2 and allowed her to spread some holiday cheer. Then, just when you thought she was "Gone Already," E1 reminds us there still is Something About Faith. That's Faith Evans, dig? Who'll be "Right Here" with Boyz II Men and Keith Sweat on Saturday night at the James L. Knight.

You're hitting Miami this Saturday night, wanna fill us in? Yes, I'll be performing at the James L Knight Center on Sat Nov 5th with BoyzIIMen, Keith Sweat, and others for the Best of the '90s Concert

This won't be your first time staging in the MIA, will it? This is not my first time, but it's been a few years since my last show in the Miami area. It's a favorite city of mine, but unfortunately, I don't get down here often enough.

How's our town been treating you over the years? I was born Lakeland, and I have family all up and down the state of Florida, so I always enjoy the city, especially getting to see some of my family. I also recorded an album here and had a chance to really soak up the city. Alonzo and Tracey Mourning have always shown me a lot of love here, as well.

Is this the first time you teamed with BIIM? I've done a few shows that BIIM performed on over the years; I've recorded with them before, as well. We've never been on a full out tour together, though.

How'd the tour come about anyway? Actually, I've been only been doing a few shows a month since school's been back in. My daughter just went to college, so I've been trying to be at home a lot more with my boys, staying on top of their studies and sports activities, etc. I jumped on this show, as it was an opportunity for me to share with some of my fans that haven't seen me perform in a while. Also, I'm still promoting my album, Something About Faith, which is still in stores and online:)

Word is a very good gal pal of yours will be hosting the show's after party. Care to share the details? One of my only close friends in the music biz, Monie Love, is now a Miami local. We always have a blast together, so this was the perfect opportunity for us to make a night of it at Club Aizia... hope to see you there!

Faith Evans appears Saturday November 5th at the James L.Knight Center. Also on the bill are Boyz II Men and Keith Sweat. For more info log on here.