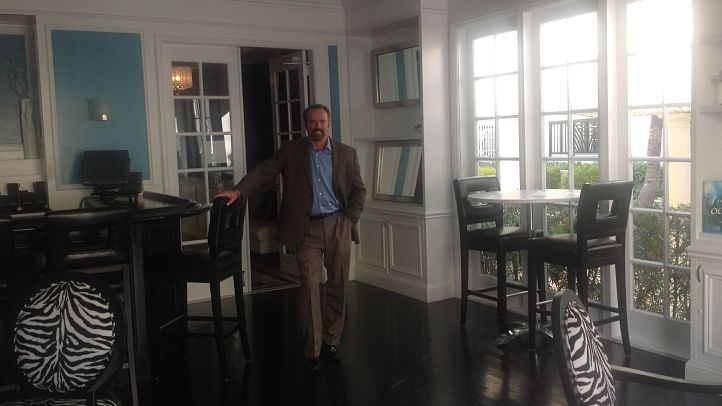 Before South Beach became a mecca for every reality show type under the moon and the stars and the sun, the fabled stretch of sand served as a playground for the kinda crowd that didn't need to shout in order to be heard above everybody else. These folks had already reached a higher realm, and they desired the sorta afterdark action that would reflect their status accordingly. They were -- and are -- the with-it; those who prize elegance and sophistication above everything else. As GM Gary Hyre tells Niteside, Friday night's grand opening of the new Savoy Hotel Bar and Lounge might just mean the with-it are welcome back to South Beach.
If you had to equate The Savoy Bar & Lounge with a movie, which would be most apropos? I am no movie buff, however the Neo Classic design and intimate setting reminds me of a lounge that the Rat Pack would frequent. A local's best-kept secret, with the creative flair found only on South Beach.
How 'bout if you were to do the same with a singer and/or a song? The first artist that comes to mind is Nora Jones. Come away with me ...
Now that we've covered the look and the sound, how will The Savoy strike our taste buds? Our mixologist Cian Thompson will spoil cocktail lovers with a flirty menu that includes Blueberry Martinis, Pink Mint cocktails bedazzled with fresh strawberries and champagne, and his citrus Caipiroska for those who are a bit more adventurous. Our signature drink is The Savoy Zest with mandarin vodka, and cointreau dashed with white cranberry. For our sweet lovers the Chocolate Martini is sure to satiate or the Pomegranate Martini for a slight twist. Of course there is a fine selection of red and white wines and it would not be Miami if our Mango Mojitos did not make the cut. Cian takes pride in mixing fresh ingredients with lively spirits that complement the theme of the lounge.

Won't there also be some select edibles on offer? Peter Wallace, our food and beverage director, has worked diligently with Chefs Rafael Linares and Lorenzo Melvin to create a delectable tapas menu. My personal favorite is the tuna tartare with fresh tuna, watermelon, mango slaw and avocado. If you are in the mood for a fun bite, then the shrimp lollipop with Gulf Coast shrimp tempura topped with a sweet chili yuzu glaze is an absolute must. The Parmesan flat bread chips with roasted garlic hummus and baba ganoush is a great snack while chatting with friends. For the heavier fare, our crab cake with saffron spicy aioli, buttermilk chicken bite with blue cheese curbs or spicy tuna and beef sliders will surely appease the palate.
Mood-wise, the combination of all of the above might feel like what? The Savoy Bar and Lounge is an oasis where you can escape from a long week while being seduced by the sounds bellowing in the background. Derrick Williams, the owner of DIRRECTCONNECT, a Chicago-based sound branding company, has provided an incredible sensual soundtrack for the venue. The lounge's artistic mixology will reflect the flavor of Miami and pair well with our tasteful tapas.
That said, how would you recommend patrons dress for the occasion of the place? Whether you are in jeans or bling, when entering this classic space just come to enjoy the beautiful decor of white walls adorned with Tiffany blue accents and cool black leather and zebra prints chairs.
Anything else we should know before Friday's grand opening? Expect the red carpet treatment with bubbly flowing, passed hors d'oeuvres and photographers snapping away. We are celebrating a new era of The Savoy Hotel while still capturing the essence of its history. If you are in the mood to enjoy cocktails, great music and tapas while lounging at our beachfront property, then come take a peek to see just how much The Savoy has to offer.
One last question: Why will all this good stuff be limited only to Friday and Saturday nights? The Savoy Hotel Bar and Lounge will open on Friday and Saturday nights as the perfect tease for the nightlife component in SoFi. In this never-ending pursuit of perfection there will definitely be more to come … stay tuned!
The Savoy Hotel Lounge and Bar opens Friday, Nov. 30.