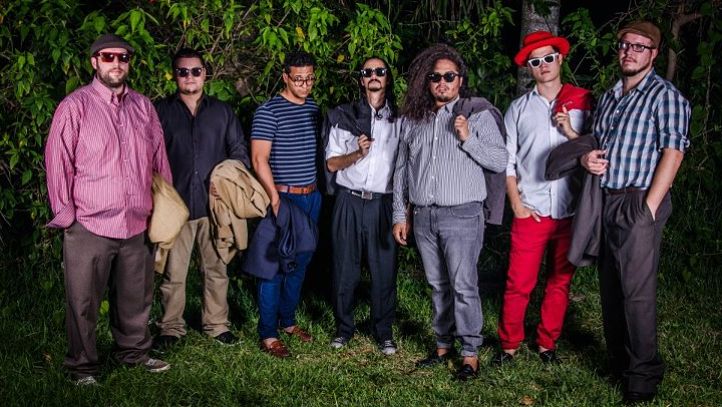 Of all the rad and mad racket-making Miami acts, few are more madly radical about the racket they make than Ketchy Shuby. A mash-up of Motown, punk and hard soul, the brass-topped gang is the musical equivalent of a fist-fight that ends in a kiss and leaves each culprit swingin' merrily ever after. This Friday Ketchy Shuby celebrates the lensing of a clip for "Long Live the KIng" by taking to the carpet at Bardot. Niteside has a sneak peak below.
For the few who don't yet know, what's Ketchy Shuby? It's seven-piece soul band from Miami - and it's also a Peter Tosh song about sexual innuendo.
How would you define the kinda racket it makes? We define it as Downtown Soul; Miami Cultured Soul with Funk and Psychedelic Influences!
If you had to compare said sound to another racket-maker, past or present, who would it be? Otis Redding with The Budos Band backing him.
Who does what and how long has each been at it? Three years with Danny (percussion,vocals) Karim (vocals, tambourine), Andres (drums,engineer), Rob (sax,flute & vocals), Matt (bass guitar), Charles (organs & vocals), and me, Jason ( vocals, guitar).
What's the story behind "Long Live the King"? Well, we were invited to play this year's Sweatstock (thank you Sweat!) and we wanted to be part of the annual Record Store Day, so we recorded the tune and released a digital 45 all within that week.
How'd the video come about? Alain and Jean Pierre have been friends of the band for a while. I came up with an idea of each band member offing each other, and they made a story from that idea. The video was shot in four different locations (Dania Beach, Ft. Lauderdale Airport, The Vagabond, and the old Mayday warehouse/Flip Side Kings Studio).
The clip's in advance of an actual vinyl 45 release right? Yessir, The vinyl will be out by September 25th (cross your fingers) on Pugilista Trading Company.
What else does Ketchy Shuby have on tap for Fall? In addition to the "Long Live the King" single, there will be another 45, a new album called Still Making It Look Easy, two tours in September and some more touring after that.
Would you say the Bardot show is both a celebration and a foreshadowing of even keener things to come? At Bardot we will be celebrating our hard work by performing for ya'll. We love to play and we love Bardot! Big things indeed!
Ketchy Shuby plays Bardot Friday August 10. For more information log on here.