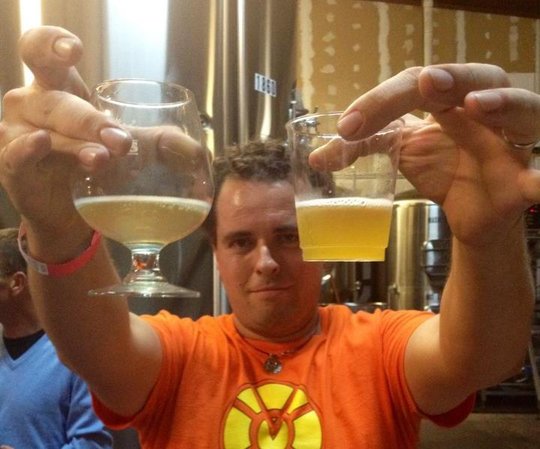 He believes Miami can stand among any other city in the country. He also believes our town deserves its very own blends of locally-brewed beer. When he came to Wynwood and saw that joints like Panther Coffee were already at the forefront of what was what, he decided this was just the place to set up shop. He is Diego Ganoza, and this Friday night his Gravity Brewbar is teaming with Panther for a savory sneak peek called Brewhouse.

What exactly is the big idea behind Gravity Brewbar? Gravity started off as a simple beer bar concept. I had been into craft beer (enthusiast, collector, total geek) for several years and just wished there was a place around here that could serve some of the awesome beer that's out there around the country. Through some digging around I met some extremely talented local brewers, and the metamorphosed concept hit me: "we'll just brew it ourselves!"

Who all is in on the action with? So far just my two brewers: Robert Tejon and Seth Hammond, and a business partner Matthew Bishop.

When will there be an actual Brewbar for folks to visit? We are shooting for end of summer/beginning of autumn. It's a bit ambitious but I think we can do it. We will be located in Wynwood. Close to 23rd st and NW 2nd Ave

So Friday's Brewhouse is kinda like a sneak peak into what's to come? Yessir! We are all about creativity in our brewing, collaborating with local businesses and utilizing local ingredients as much as we can. This was a perfect chance to do all three. Panther Coffee will be our neighbors and they have amazing coffee, so we definitely hope to keep working with them. We also wanted to use their coffee to showcase something creative and flavorful . . . I'm guessing it'll be the first time several of the attendees tomorrow will have tried beer brewed with coffee!

What's, er, on tap for the evening? We're very excited about the brews! We have: Cortadito Porter, which is our porter brewed with Panther's espresso blend, a Black IPA brewed with Panther's Colombian blend which we hope to name at the event via old fashioned live voting. We will also have our saison available as well as an IPA we made with fresh Papayas from the Redlands!

How'd you first come to connect with Panther anyway? We had been working on brewing a coffee porter to use as a year-round beer for the brewpub for a couple of months already. I saw Panther for the first time when I started looking for property in Wynwood, and I just had to go in and check it out. The place just had this awesome vibe to it. I met Joel Pollock, co-owner with Leticia Pollock, and it turned out that he was a home brewer himself from back when he was still living in Portland! Right there I just knew that the collab was meant to be. I told him about my idea and asked if he would mind letting us use his product and maybe co-branding it once we open. He liked the idea but wanted to try our beers first. This got me even more excited, the dude cared that much about the beer and our ability to deliver. Anyhow, we talked beer several times, brought him some samples of stuff we were working on and now . . . here we are!

Brewhouse tales place Friday June 23, 7pm-10pm at Panther Coffee 2390 NW 2nd Ave Wynwood. For more information log on here.