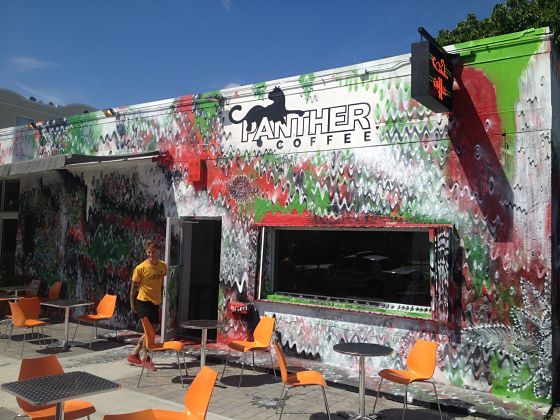 To say that Panther Coffee serves as the de facto HQ for all the wow that goes down in Wynwood might be a a bit of hyperbole; then again, it might just be simple accuracy. Whatever the case, it's where the wildest things are conceived (and often even executed), which is why Douglas "Hox" Hoekzema's paint wrap is kinda perfect for the place. Niteside decided to get with the very vivid visualist on the eve of another Second Saturday, where his work will serve as a fittingly fierce backdrop to the monthly Beats and Brew.

Who (and what) the hell is a Hox? It's an abbreviation of my last name. My family would use Hox when I was a kid at restaurants for the waiting list.

So which name should folks use when they're talking behind your back? Both

And to your face? Both

Cool. Now that's outta the way, how'd you get drafted to transmogrify Panther? A good man by the name of Paco de la Torre referred me to Panther after it was vandalized for the second time.

That's not the only piece of highly visible Wynwood real estate you can be seen on, is it? Currently it is. There are a few uncommissioned still running nearby though. One next to Locust Projects.

You're also currently exhibiting something north of the County Line? That show just went down and they fuckn destroyed my pieces.

Word is Primary Flight took an interest in some of that action before that happened; wanna spill? My piece was selected by Books from Primary Flight for their next show this June.The piece is an interactive sculpture which is fancy for a crazy swing composed of an old chair, a hurricane shutter and rope... It was amazing to see grown adults that forgot how to use a swing.

What else should we know about Hox before you go-go? Currently I am working with Bhakti Baxter on his mural near Downtown Miami. From there I am headed to Bogota Colombia to paint, and then LA..

Panther Coffee is located at 2390 NW 2nd Ave Wynwood. Beats and Brew takes place Second Saturday May 12 8pm-Midnight. Hox's paintwork can be seen indefinitely.