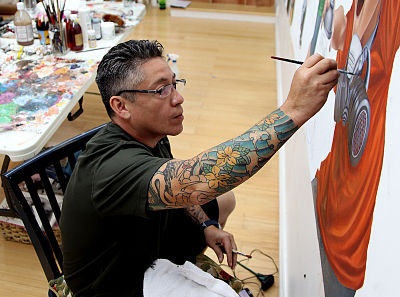 This Second Saturday it´s a cinch the scene at will be centering on the space and the artist known as Miguel Paredes. Paredes, who grew out of his first gallery almost before it opened, creates the kinda wonders that awe the madding crowds, so the unveiling of his new "Ghost Writer" will surely please. Add some top notch food and top shelf drink and you´ve got the makings of one dynamite Second Saturday night.

This Saturday night you're unveiling a painting called "Ghost Writer." Wanna tell us a bit about it? "Ghost Writer" is dedicated to a childhood friend who, after 20 years of struggles with all types of demons has managed to come together with his poetry. But it also symbolizes the daily struggles we all have until we conquer them -- then we shine!

Like he is, the Warrior on the left fights the Serpent, the man on the right, a face that cannot be denied years of knowledge. Ghost Writer holds his Mont Blanc like a sword. The dark, lonely city landscape you can´t help but notice the details and the clouds burn like fire above it.

Seems Miami's becoming more and more known for its Ghost Writers. Have you any favorites? Hahaha. I don't know any Ghost Writers in Miami, but I'm looking for one to re-write my memoirs

What else will be on view at Paredes this weekend? I have four small pieces of work from the mid 90's that just got back from a gallery in Korea, so I´ll be busting those out .

Won't you also be providing some food and drink? Yes! We have Chef Douglas Rodriguez from D. Rodriguez de Cuba on Ocean Drive hooking up the light bites. Rodriguez and I are boys since The Wet Paint Cafe on Lincoln Road early 90's. We also have Chivas and Heineken getting everyone a little nice.

A few months back you moved around the corner to 23rd Street. Why the switch? The first gallery in Wynwood was great until people started to lean on my paintings and there was not enough room to be able see the work, so we immediately started to look for a larger space. Plus I wanted to create my Brownstone Installation and have a space large enough to produce large sculptures in the near future.

Before we go, if you had to define your style in a single sentence, what would it be? Can BAD ASS be defined as a style? JK!
Miguel Paredes opens Saturday May 14, 5-10pm at Miguel Paredes 173 NW 23rd Street Miami 866-534-2184 x2244

Copyright FREEL - NBC Local Media