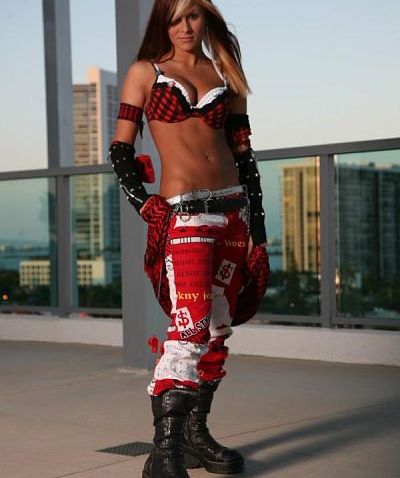 If Miami is set to become more and more of an electro rock town, it'll be largely because of a band called Music is a Weapon. The crew consists of Kala Droid (vocals), Brik Brixton (bass), Edgy Madness (drums), Hara Cha (guitar) and an incredibly fetching Dub Mandi singing co-lead and snapping some serious percussion. She's the yin to the boys' yang, and her sassy flash adds a dimension that puts them well ahead and above the proverbial pack. Niteside caught up with Dub Mandi on the eve of MIAW's massive Vagabond blow-out show; here's what the lass had to say.

Where did you get the name Dub Mandi and what does it mean? Dub is a type of music, a culture, and a lifestyle. To me, it's that seven-hour day at the beach with my bandmates and the whole mentality and mindset that goes along with it. Cool, chill-minded and laid back. ... That's the way I like to be even when we're rocking out on stage. You have to remember that you're doing it for love and fun before anything else.

Music is a Weapon is really more like a family than a band. What sets it apart from other hip-shaking outfits? The fact that we are such a family. I suppose you could call us a bond rather than a band, and you've only met a small percentile of us. We're a traveling sideshow with our Amsterdam family! Not to mention that we all acknowledge that we have some serious work to do on this little place here we call earth. Mother and her children are wearing far too many Band Aids if you ask me.

MIAW's latest single, "Bam in Amsterdam," actually seems like a love song to the same-named city. What's with you guys and Holland? The people. The city. The art. It's our home and something difficult to fully grasp unless you go there and help us build the pirate ships and flower towers for the festival each summer.

MIAW isn't afraid to sing some swingin' melodies. Do you have a fondness for pop songs? I have a fondness for good songs. Pop, punk, classical, swing ... whatever! If it makes your feet dance and has you singing in the car it's rad by my book.

The way you and Kala Droid trade off lead vocals is reminiscent of Sonny and Cher, if they had fronted an electro-punk rock band. Are you a fan of girl/boy duos and bands? I love Aqua. People judge them by "Barbie Girl," which in my opinion was a stellar and genius song. Europe already adored them so they aimed and shot their next weapon ... at the land of plastic infatuation -- the U.S. Their new stuff is darker. They rock.

Word is you did some vocal training with former Saigon Kick lead singer Matt Kramer. Were you a hair metal fan growing up? Indeed, Kala was a fan as well! We are actually both still training with Matt today. His amazing and unique method has completely put things into such musical perspective for us. And I love metal bands -- Maiden being at the top of my list! And yes, I did say that I like Aqua too.

You told Wasabi Fashion Kult that the title of your autobiography would be The Girl Too Lazy to Be Crazy. Can you please explain? I guess it goes back to the whole concept and mentality that is dub ... chill out! Take everything as or comes and remember that you're part of a much greater plan. The line in our song "Hollows Eve" for example, "I know I'm crazy but I know I'm not that crazy." If you're going to be crazy, be cool and express yourself in a positive way. The world doesn't need anymore psychos. Otherwise, just sit back and enjoy the ride.

Rumor has it you're also a strict vegetarian. How long has it been since you had a burger and what's the best place in Miami to get a good veggie meal? Nine years now. This is a big part of my role in MIAW ... the awareness of animal rights, having a voice for those who don't. And what better way then through song? There is a great vegetarian place on 163rd street -- Hakin's. Though my very favorite is Sublime. In Broward. Five-star incredibleness.

When you're not tending bar at K.Y.I. or dining vegetarian, where do you and the boys like to hang out? At the beach at the studio, at our amazing and spiritually charged house on the river in El Portal down the street from Iggy Pop.
What's coming up for DubMandi? Cirque Excentrique, baby! We're bringing our Dutch family to our side of town for a show that Vagabond has never seen before -- or Miami for that matter. Then back to Europe in the summer another year strong!

Cirque Excentrique starring Music is a Weapon, with special guests G2, Floyd the Rock Artist, DJs Sakia Rocks and Geza Weisz, plus an exhibition by Steven Dark. Saturday March 20 The Vagabond 30 NE 14th Street Downtown Miami For more info log on to thevagabondmiami.com.