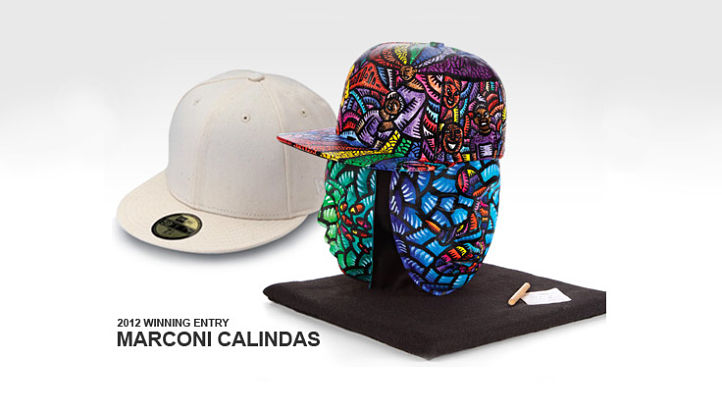 Seems New Era isn't content to occupy a prime corner of South Beach; now the awesome cap company is adding a pop-up shop to the equation. Only instead of showcasing names everyone knows, the be-all brand will be breaking out lids designed by some of the finest young minds in art. The global campaign is called New Era Introducing, and it features a keen cool cadre of tomorrow's talent. New Era's own Doug Chisholm fills us in this weekend's wilding.
What's the big idea behind New Era Introducing? New Era is a brand that prides itself in the idea of self-expression. We believe in empowering individuals to be masters of their craft. New Era Introducing is a global creative project that aims gives unique, up-and-coming talent an opportunity to make their own artistic statement. The idea is to harvest and invest in the next generation of 'Fly Your Own Flag.'
Whose big idea was it anyway? Well, New Era Introducing began in our European office and was really speared-headed by the then-director of marketing, Wayne Best. In terms of judges, we looked to our own talent here at New Era, including our Creative Director Ben Ewy and Ashley Bifulco, who works on our Innovation team. We also looked to engage the art community in Miami, so we tapped into local legend Lebo.
What's your role in all this? Well now that a winner's been selected, it's time to share the creations that came out of the campaign. So we're taking the designs out on a tour. It's a gallery experience that will allow people to come and enjoy the outstanding talent that North American artists showed New Era, and it's a display of the creative minds of tomorrow. My team and I want to show not only the next generation of artists, but also what the New Era brand is all about.
How many submissions were the finalists culled from? 450 entries were received for phase 1; from that we sent 120 blank white caps out for phase 2. About 80 will be on display for the gallery tour.
Can we now announce which artist won the Grand Prize? Yes, absolutely. Marconi Calindas was our Grand Prize winner, and he will receive $10,000 to fuel his art career. The piece he created was inspired by the bullying epidemic – a cause that is close to his heart. In fact Marconi is currently illustrating and co-writing a book on education people about bullying and embracing individual differences, and he plans to use the prize money to publish and distribute the work to libraries and schools throughout the West Coast.
What made Marconi Calindas worthy of first place for New Era? Marconi had a very consistent style and stayed true to that original design and concept in both phases. Our judges recognized his talent and felt he had a bright future that was worthy of winning this competition. It also goes without saying that his inspiration raises awareness to a very real problem facing America.
New Era Introducing takes place Saturday, Oct. 6 and Sunday, Oct. 7 from noon-7 p.m. at 719 Lincoln Road. For more information log on here.