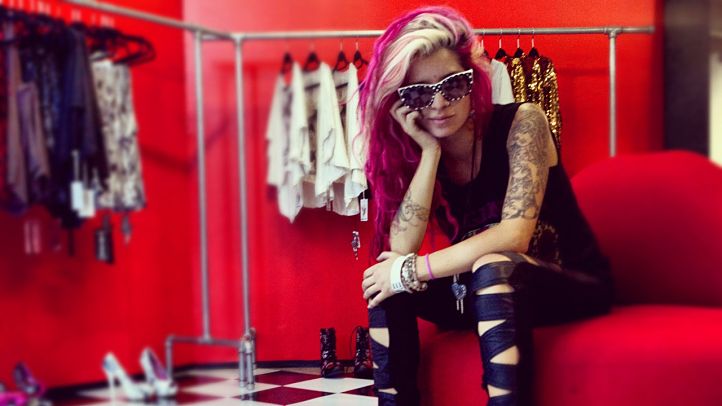 She's the kaleidoscopic chick who gets it to click. She's got style, sass, swing and whimsy. She's the go-to gal when something stunning needs to get done, which is just why Betsey Johnson made her the brand's Miami ambassador. She is Pamela Wasabi, head of her own Wasabi Fashion Kult, and this Thursday she's popping up her own shop. It's called simply The Kult, and she says it's "a clothing treasure chest of punk rock, harajuku fashion and grrrl power."
What's the bright idea behind The Kult? The Kult is the physical counterpart of our Wasabi Fashion Kult magazine, which is now celebrating its four-year anniversary. This is where people can go to get all the gear we've been raving about all those years. It's colorful, bold and aggressively sexy.
Who all is in on the action? The artist Kazilla has been a great addition to our store. She's creating these psychedelic, '80s glam tribe, punk muses which will be on hanging virtually on our walls. Stian Roenning is our official photographer, and Wynwood Vintage custom-made all the furniture to my whims and desires. My family has helped me unconditionally, and it's with our collective sweat that this whole idea came to real life. I also have to give credit to Lombardi Properties, who opened their door and lent us a hand.
What about brands? Right now we've got Iron Fist, Lip Service and See You Monday. Coming soon will be UNIF, Wild Fox, Jeffrey Campbell and the most precious of all, Betsey Johnson, who's our punk rock godmother.
How'd you come to the location? David Lombardi and I go back seven years, to the time I was designing for Rockers It's Dangerous in the Wynwood Lofts building. One day we can into each other at Wood and he told me about the space. It ended up being just what we needed.

The Kult opens Thursday, Sept. 13, 6-8pm. After party at Wood Tavern. For more information go here.