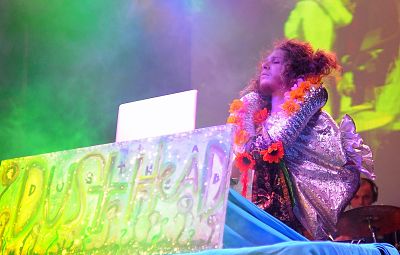 Frequent fliers have long known that Second Saturday begins and ends at Awarehouse. In fact, the monthly onslaught of sound and vision virtually assures such ubiquity. This Second Saturday's Envision may even make it more so. Why because the onslaught is even greater than usual and it includes the Ancient Space Disco of Dusthead. Niteside asked aural conjurer Billy Ie to give us some of the facts.

For those who don't yet know, who and what is Dusthead? Dusthead is a cosmic musical project I started two years ago to vent out the fusion of sounds I would hear in my head. I was born and raised in South Florida and have been evolving my music here for the last few years. Over time I've explored more and more realms to incorporate in my production: for example, the act of combining electronic bass sounds, classical violins, operatic voices, heavily layered Tribal drums and electronic synths. The music is heavily inspired by the idea of raising your consciousness and tapping into something beautiful and Epic. There is more behind what the naked eye can see, and I produce the music to elevate my self and my audience. Live Dusthead performances are visually stimulating and feature a variety of different musicians and dancers, including Rudy Linenoise on the percussive end, Dayna Slinky Cat moving her body to the vibrations and Shay Indigo lending us her vocals. I've also produced music with Ydiz (of Telekinetic Walrus), Mirror Melt and many more.

Dusthead's debut LP racks this week, wanna fill us in? Yes, I'll be releasing a CD called Ancient Space Disco. It's a six track release focused on visions from the ancient past and sounds from the future. The album has a very cinematic vibe, telling a powerful story the listener will feel and absorb.

How will you be marking the occasion? The album will be released at an event this Second Saturday called Envision, full of great people and consciousness-expanding art installations. It's being put together by the Telekinetic Family and Awarehouse. You should see the flyers and posters all over town. The unique artwork on the flyer was created by our good Parker. Not just am I releasing an album at Envision, but my good friends Telekinetic Walrus and the Pride of Ions will be making a comeback performance with a few special surprises.

Who else is on the Awarehouse bill? Other acts I'll be performing alongside include Sounduo, organicArma, Beatmachines, Mr. Feathers, SpinnZinn, Raja Khan and The Cornerstoners.

Aren't you and the aforementioned all on the new organicArma remix record? Yes, I produced something for organicArma's new Under Duality: The Remixes. My remix is called Heart Shaped/Demente and it was blast combining their sounds and mine.

Will you be performing your mash of oA's tracks on Saturday night? I have played the remix out at many shows these last few weeks and have had a great response, but I won't be featuring it during my performance at Envision. Dusthead's performance will center around the the Ancient Space release.

This won't be your first time taking to the Awarehouse stage, will it? I've played at the Awarehouse before; it's my favorite venue to play live in Miami and I have wonderful memories. It's an electronic musicians heaven. The sound system and lighting compliment the performances greatly. Couldn't ask for more...

Should fans expect something bigger and badder than ever before? Oh yes, our performance will activate third eyes and stimulate the mind. Dusthead's vibes will be extra heavy at Envision, channeling heavier Bass and a beautiful symphony of orchestral sounds from beyond the within. Get ready!

Envision takes place Second Saturday October 8 at Awarehouse 550 NW 29th St Miami . For more information log on here.