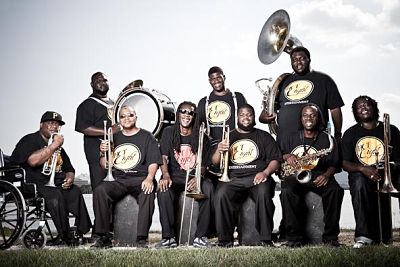 The Stage is already known as one of Miami's preeminent live music venues, but after this weekend they might just be known for the sound of New Orleans too. Why? Because of the three-day Big Bad Brass Party Weekend, that's why. The Stage's own Carlos Garcia fills us in.

What's the big idea behind The Big Bad Brass Party Weekend? A big part of The Stage's look and feel comes from the love and influences I have from New Orleans. We are always trying to continue to build the musical highway between Miami and New Orleans so putting these acts together seemed like the perfect fit. We're celebrating two amazingly musically rich cities, it's the perfect Big Bad Brass mashup.

The three-day Weekend actually begins on Thursday -- what's on tap for Night 1? The Hot 8 Brass Band from New Orleans at The Stage doing their thing. They are an amazing energetic act who've actually toured all over the world. They are best known for their contagious brass infused hip-hop, funk, and jazz. We are also featuring a "Schooled in Louisiana" alumni meetup and free Appleton Rum drinks from 9 to 11pm. It should be a great kick off to an amazing weekend.

Friday night's line-up adds one of Miami's finest, right? Yes, Suenalo is one of Miami's top bands comprised of brass, percussion, keys and a mix of Mcing with soulful singing... they are an amazing act to watch. Wherever you see them and I've seen them even in New Orleans, people go crazy dancing to their songs. They just know how to bring it and they do.

Who've you got teaming up with Hot 8 on Night 3? The two-time Grammy-nominated Locos Por Juana, one of the most well-traveled Miami-based bands -- and also one of its best. They bring the crowd time and time again and have an amazing stage presence. I always look forward to having them at The Stage.

Word is there's also a Big Easy meets Magic City food element to the Weekend, wanna tell us about it? We decided we wanted some of Big Easy cuisine and one of my friends brought The Rum Cake Factory's po' boys to our attention, so we thought it would be amazing to have them part of the festivities. They will be serving up their award-winning 'po boys, smoked chicken wings and amazing rum cake. I'm sure with all the dancing going on, we'll have a hungry crowd. They'll be part of the fun on Friday and Saturday.

Isn't there an art component as well? Yes, we always have art at The Stage and there will be live paintings by multiple artists such as Trek Six (who also collaborated in the murals outside of The Stage), Kazilla and Oscar Saavedra. We love the visual component of live art and live music.

Anything else folks need to know before we go-go? If they want to hear some of the best that both the Crescent City and Magic City have to offer they have to come one of the three nights or heck, all three if they're up for the marathon! It's going to be an amazing Big Bad Brass Party Weekend at The Stage!
For more information on The Stage's Big Bad Brass Weekend log on here.