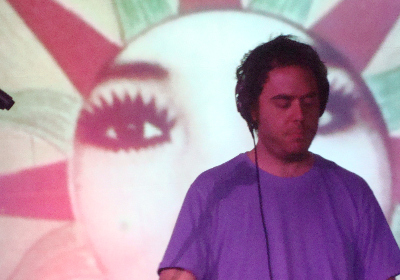 It's been nearly two decades since turntable ace Cut Chemist (and co-conspirator DJ Nu-Mark) backed the rad act that was Jurassic 5. Over that time there's been a stint with alt Latin rockers Ozomatli, three highly influential offerings alongside DJ Shadow and his own surround sounding The Audience is Listening, in addition to enough remixes to fill a proverbial crate. Just last week, the L.A. hotshot came through with an aural experiment entitled Sound of Police that puts a whole new spin on some classic African beats. To help mark the occasion, Cut Chemist pulled into Vagabond as part of his Red Bull On the Floor Tour. The room is still reverberating.

This isn't your first time in Miami, is it? This is my first time spinning since 2000, I hate to say. But I was here a year ago shooting that movie "Up in the Air."

How did that come about? [Film director] Jason Reitman was a fan of mine, and he asked me to do some music for him before he did "Juno." Then he started coming to shows and stuff, and we became friends. He was an aspiring DJ as well. So he'd ask me for pointers about DJing, and I'd ask him for pointers about editing because I was getting into visuals. Then one day he asked me if I wanted to be in the movie and I said, "Yeah."

In "Juno"? Yeah, I played a chemistry teacher.

That's fantastic. But why so long between spin dates? Touring just doesn't get routed down here. I mean, we play Jacksonville or the Panhandle, but we seldom get to make it all the way down the state. That's why I'm so excited about tonight. I love Miami.

You were here for a few days during the "Up in the Air" shoot, right? What's your take on the place? It's crazy. I mean, I love the Caribbean, I've been to Cuba and I kinda just put Miami in the same boat. I love it down here. The music culture is terrific, the old soul like Little Beaver, Clarence Reid.
Did you have a chance to hit any hotspots? Joe's Stone Crab. Does that count?

Kinda. Speaking of old soul, you've got some classic tracks threading in your new single "Adidas to Addis." What's the story on that song? That's part of the album I just released Sound of the Police, which is an African and South American inspired music project I did. It's a live one turntable mix -- I mix with a loop pedal -- which comes from a routine I did about a year ago. "Adidas to Addis" focuses on Ethiopia -- Mulatu Astatke, the battle songs --and it mashes hip hop and Ethiopian jazz.

Have you been to Ethiopia? I haven't been to Africa. That's one continent I've not been to.

What about Brazil? I notice there are some elements of that country's music as well. Oh yeah. I've been down there a few times, doing shows, recording the song "Berimbau" from Astrid Gliberto.

Have you ever got to meet Caetano Veloso? Of course, he's amazing. He just played the Greek Theater out in L.A. He's got a killer version of "Billie Jean."

Do you use Serato or Tracker or any of the other new gadgets? All of 'em. I don't discriminate. If I did I probably wouldn't be here. I don't make songs with Serato, but I do use it as a performance tool. I try to use vinyl, CDs, DVDs, Serato, everything.

I read that Warner Music Group blocked your "What's the Altitude" clip after it got 93,619,283 views on YouTube. What's the point of that? I don't know. It's like, do you not want your music to be heard? At the time it was like the third most viewed clip on YouTube, and we didn't even have a kitten in it!