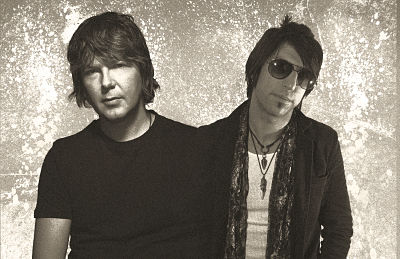 There are many ways to be grateful on Thanksgiving, and giving back to the community is one of the best. Combine a good cause with a night of mad dancing, and, well, you've got the kinda Turkey Day everyone can believe in. That's undoubtedly why Vagabond's Carmel Ophir and star DJ John Digweed decided to start an annual throwdown to benefit the Community Coalition for the Homeless. And why the party people will be rockin' 14th Street tomorrow night.

This Thursday marks the second annual Diggers and Shakers bash at Vagabond. Wanna fill us in? In the early stages during the build-out of The Vagabond, it was quite evident how downtrodden the neighborhood was. Aside from structural neglect, there was a strong presence of homelessness. Some were petty criminals, some were drug addicts, alcoholics, but others were just handed a bad deck of cards and ended up on the streets. Throughout the build-out process, John and I spoke often about working within the community and "giving back," rather than just taking advantage of it. I was adamant that if we were successful in our venture, we must make an effort to contribute to the environment in which we gained success. It simply made sense to support the most important of causes: an opportunity for anyone to regain their dignity and get their lives back on the right path.

Isn't this coincident with the long-running (((Shake))) party? Hence the name 'Diggers and Shakers' (John's nickname is Diggers). Man, I love working with our 'partners' at Shake. They are such down to earth genuine cats. They get it because they are die-hard locals. They get it because as a collective we've all been through the mill at one point or another in our individual lives.

And isn't Digweed making a special trip across the pond for this event? Yes, John is flying in from the UK to play this event. And this year, local DJ hero Craze is also taking part for this special cause. It feels that much more genuine to have both an international star and our own homegrown star unite in doing the right thing for our community.

How'd you two come to be involved with the Community Coalition anyway? Again, through researching the various issues concerning the immediate neighborhood and community, we gravitated towards the human factor, and found that CPH was proper model for finding pragmatic solutions to the issue of homelessness. Community Partnership for Homeless is a not-for-profit shelter that assists homeless men, women and children in transitioning off the streets and on their way to attaining greater stability and self-sufficiency in their lives. They provide not only food and shelter, but comprehensive case management, healthcare, daycare and job training. They have a 70 percent success rate.

Vagabond has a history of helping out the community. Who are some of the other recipients of your largesse? The Vagabond and its staff, partners and promotional team continue to raise funds and goods for causes in our community spanning from Haitian Hurricane and Earthquake Relief, Art in the Schools, Toys for Tots, and most recently Breast Cancer Awareness.

In addition to attending Thursday's throwdown, what else can you recommend to someone who'd like to get involved -- Thanksgiving or otherwise? Aside for monetary donations, you can volunteer. Volunteering is an awesome gesture of selflessness and the rewards are genuine and authentic. You can find out more by visiting the CPH website at www.cphi.org.

While we're here, wanna tell folks what else is on tap at Vagabond for this long weekend? Well actually the day before Thanksgiving event we're celebrating the 8th Annual '80s Prom with Sweat Records ... one word ... RAD! On Friday we have a live performance by The Ettes and Hans Condor. On Saturday, Back Door Bamby hosts "Don't Feed the Animals" featuring record label PetFood's Lazaro Casanova.