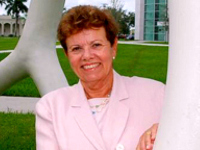 Frost Art Museum Director Carol Damian said the opening of the "Paul Strand in Mexico" exhibit the South Florida museum dovetails well with the national debate on immigration -- and she hopes patrons will draw the comparison.
"I would hope people would recognize that connection," Damian said last night. "It is coincidental because we actually planned this so long ago with Mexico's bicentennial celebrations in mind. But many people ask about that and that was the goal of the exhibit, to show a different Mexico."

She added, "It was actually very, very good timing."

Hundreds turned out to the Patricia & Phillip Frost Art Museum last Wednesday to fete the opening of the exhibit, which chronicles through Strand's detailed photographs the pivotal points in Mexican history.

"The Mexican community was there -- I think they were very proud," Damian said. "The council general (of the National Council for Culture and the Arts) was very anxious to elevate the culture of Mexico in the eyes of the Miami community, and there is no better way to do this than with art."

Though Strand is not Mexican, his innovative lens work aims to forge a connection with the country's culture -- including its art, politics and society -- and provide a rare glimpse into the earlier part of the artist's life.

"This is the true side of the Mexico, what you see in these photographs," Damian said. "I am always looking for exhibits that show the pride of the place and its people."