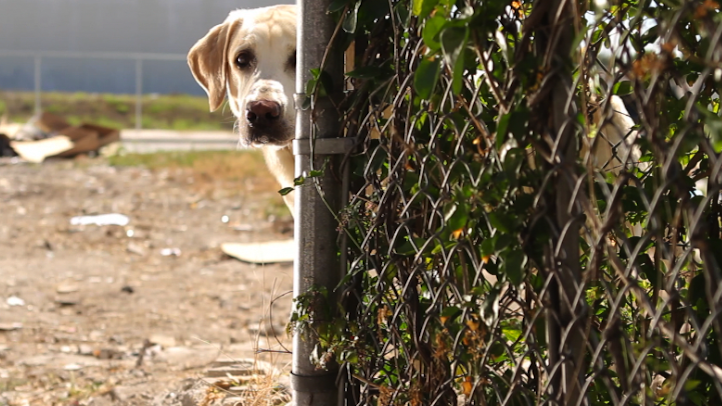 "Play Dead" was one of the pet projects of the 7th annual Borscht Film Festival. Described as Homeward Bound meets 28 Days Later, the short film takes audiences from Kendall to Overtown with a pack of puppies and tons of hungry zombies. Directors and brothers Andres and Diego Meza-Valdes made a perfectly frightening and funny Miami film with dozens of locals in undead makeup, a group of professional dogs - including two from Marley & Me - and music by Rachel Goodrich and Amigo the Devil. Not everyone who went to see the April film festival made it into the Adrienne Arsht Center where "Play Dead" premiered. So, a re-screening was necessary. Last night, O Cinema brought back Borscht where Niteside caught up with Andres to ask what it was like working with actual pets and in a tight time crunch.
What was your favorite part about making the movie?
Honestly, it was probably collaborating so many talented people all over Miami like the Borscht guys. Just like having meetings with them and them hooking us up with our director of photography and all these other crew people that were so amazing to work with and we didn't even know were in Miami.
Did you get attached to any of the cats or dogs?
Oh, yeah, I think about the dogs all the time. There isn't a day that goes by that I don't think about the dogs.
Working with the cats was difficult, was working with the dogs the same way?
No, the dogs were highly, well trained and the cats were just like pets that we gathered together and got to film. The dogs were better than the actors.
The movie did well on the internet, you guys raised tons of funds on Kickstarter. Have you made any additional edits since what we saw originally at Borscht?
Yes, we have a new cut that still isn't finished but it was way more finished than the Borscht cut. This new cut has sharper editing, the sound is more complete, you get more of a sense of chaos with the zombies and gore.
Are you a zombie movie fan? What's your favorite?
Yes, easily Dawn of the Dead, Romero's 1978 classic. That's the best one without a doubt. Anyone who says different doesn't know what they're talking about.
Where are you going next?
We're playing the Toronto After Dark Film Festival, we just got into Scotland's Dead by Dawn Film Festival, which we've been to before with our other films, it's an amazing festival with a great crowd, so we're excited about that and we recently heard we're going to be playing a Washington, D.C. festival. We just got back from Montreal from the Fantasia Film Festival.
Are you going to continue to work on new projects with your brother?
Yes, as far as I'm concerned, and him too, hopefully, we're going to be working together for a very, very long time. We know our thing, we know how to run a set together. So, definitely.
Can you tell us about the time crunch you were under to finish in time for Borscht?
Yeah, this was the fastest film we've ever come up with the idea, filmed it and edited it in time for the Borscht Film Festival. What's kind of cool about Borscht is that it sort of gives you this Hollywood feel. You're never really done with your film over there, and so we wanted an extra two weeks, we couldn't have those extra two weeks. It gives you that Hollywood, producer, on your back sort of feel, which is cool, I guess. It makes you feel like you're part of a real production and real money is at stake. Made us go crazy after day six, but we learned a lot.