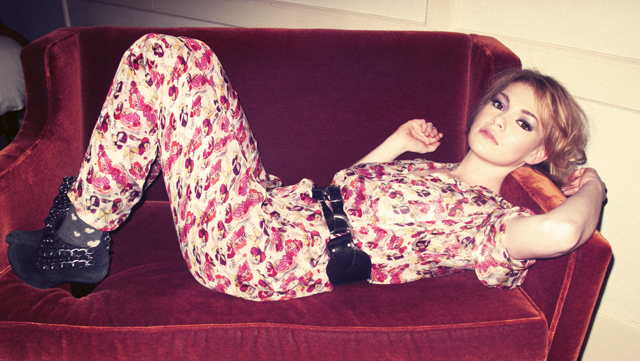 She may be an American in Paris, but underground electronic artist Uffie is on no leisurely vacation. Though it took nearly four years to finish her debut album 'Sex Dreams and Denim Jeans' -- marriage and then single motherhood tends to take up a lot of time -- Uffie was nominated in 2011 for France's prestigious Victoires de la Musique award. Wednesday night, she kicks off Winter Music Conference programming at The Standard, where an overwhelming number of RSVPs to her free performance have already forced one location change on the property already. Niteside caught up with the underground club darling before we were no longer sure where to find her.
You were born and lived in Miami for a while, but you've lived a lot places. Is it special coming back to perform here?
Yeah, it is special to be back. I lived here from 9 to 13, at a time when I was first discovering MTV and listening to music.
At what point did you realize you could do this for a living?
I started when I was just turning 18, and it's something I really enjoyed but I didn't think it could be a proper career. It wasn't until I was 21 or 22, making an album, that it became serious.
You're the only woman on the critically acclaimed French dance label Ed Banger. Is that sometimes difficult?
It's okay, I think because I've known most of the guys since I was about 15 as the Paris night scene is really small. I see them all more like friends or older brothers, in a way. If not, it might be a bit awkward. But I'm really a tomboy.
Have you started working on the next album?
I have! 2012, the beginning of 2012 [it will be released]. And I'm working on a mixtape right now that will be released before then.
Any special collaborations up your sleeve? You've worked with a lot of artists, from labelmates to Pharrell.
For the mixtape, I'm focusing more on [working with] the young kids coming out of the scene, a kid called French Fries from Paris. For the album, I have my wish list, but nothing confirmed yet so it's still secret!
There must be a big difference between a European audience and an American audience.
Oh, definitely. I think in Europe they're really much more into the DJ or who's playing. So in Europe, they really go to see the artist; in America, it's more about the general vibe.
America sounds a little more difficult.
Definitely. And they understand the lyrics, so it's a lot more pressure.
You can flub them in Europe?
Yeah, in Europe you just sort of blabber between songs; no one really knows anyway. You just have to pay attention and make sure you get the right city.
You have a daughter now. How has that changed your work and your schedule?
Before, I could travel endlessly and go somewhere at the drop of a hat. When you have a kid, you have to plan every single thing in advance. It's brought a lot more schedule into my life.
That must be hard, because you have to be out a lot.
Yeah, and then wake up at 6 a.m. with the baby! It's all about finding the balance.
Catch Uffie live at The Standard Wednesday night from 8 p.m. to midnight (performance at 9 p.m.). RSVP to uffie@standardhotel.com.