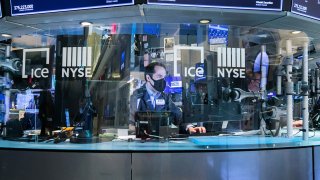 Here are the most important news, trends and analysis that investors need to start their trading day:
1. 'Sell in May, go away' is not materializing on first trading day
Dow futures jumped 200 points on the first trading day of May. The 30-stock average dropped 185 points, or 0.5%, on Friday but still closed out April with a monthly gain of 2.7%. The S&P 500 and Nasdaq fared worse than the Dow on Friday but each turned into more than 5% gains for all of April. The Wall Street adage, "sell in May, go away," does not appear to be materializing Monday, but it's a historic trend investors will be watching as May plays out. Stocks tied to the economic comeback from Covid were higher in the premarket, including Norwegian Cruise Line and Carnival and the major U.S. airlines.
2. When Warren Buffett is no longer Berkshire CEO, Greg Abel will succeed him
Berkshire Hathaway's Charlie Munger inadvertently revealed who would succeed Warren Buffett as CEO. In response to a question on Saturday about whether the company would eventually be too complex to manage, the 97-year-old Berkshire vice chairman said: "Greg will keep the culture."
CNBC confirms it would be Vice Chairman Greg Abel. "If, heaven forbid, anything happened to Greg tonight then it would be [Vice Chairman Ajit Jain]," Buffett, 90, told CNBC's Becky Quick after this weekend's annual Berkshire shareholders meeting. Abel, 59, and Jain, 69, had been seen as being in the running for the top job since they were promoted to vice chairmen of the company in 2018.
Buffett told CNBC that age was a determining factor for the board. "They're both wonderful guys. The likelihood of someone having a 20-year runway though makes a real difference."
3. Buffett slams Robinhood; Munger calls bitcoin 'disgusting'
Robinhood is promoting gambling-like behavior in the stock market, Buffett said at the Berkshire annual meeting. Robinhood has "become a very significant part of the casino aspect, the casino group, that has joined into the stock market in the last year or year and a half," Buffett said, adding he was unhappy, for example, to learn how much short-term option activity there was in Apple.
Munger's disdain for bitcoin has only intensified as the digital asset mounted a record run this year. "Of course I hate the bitcoin success," he said during a Q&A session at Berkshire's meeting. "I don't welcome a currency that's so useful to kidnappers and extortionists," Munger added, saying the "whole damn development is disgusting."
4. Apple's App Store goes on trial in threat to so-called walled garden
Apple faces the start of one of its most serious legal threats in recent years. A federal court case, going to trial Monday, was brought by Epic Games, maker of the popular video game Fortnite. Epic wants to topple the so-called walled garden of Apple App Store. Privately held Epic charges that the $2.2 trillion market cap Apple has transformed a once-tiny digital storefront into an illegal monopoly. Apple takes a commission of 15% to 30% on purchases made within apps. Apple denies Epic's claims.
5. Verizon is considering selling the remnants of AOL and Yahoo
Verizon will sell its media group to private equity firm Apollo Global Management for $5 billion, the companies announced Monday. The sale allows Verizon to offload properties from the former internet empires of AOL and Yahoo. Verizon will keep a 10% stake in the assets, which will be rebranded to just Yahoo. Verizon bought AOL in 2015 for $4.4 billion and Yahoo in 2017 for $4.5 billion. The sale by Verizon will see the online media brands under the former Yahoo and AOL umbrellas — such as  TechCrunch, Yahoo Finance and Engadget — go to Apollo.
— The Associated Press contributed to this report. Follow all the market action like a pro on CNBC Pro. Get the latest on the pandemic with CNBC's coronavirus coverage.
Copyright CNBCs - CNBC