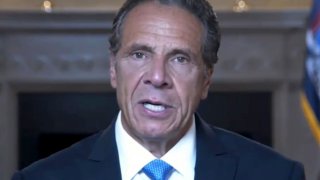 New York Gov. Andrew Cuomo "has no interest in running for office again," his aide said.
The statement came as the embattled Democratic leader prepared to step down from his job of 10 years amid a sexual harassment scandal.
Cuomo was set to be succeeded by Lt. Gov. Kathy Hochul, also a Democrat, who will become the state's first female governor.
New York Gov. Andrew Cuomo on Monday said he believes his successor, Lt. Gov. Kathy Hochul, will "step up to the challenge" just hours before he was set to step down from his job of 10 years amid a sexual harassment scandal.
Download our app for iOS or Android to get the latest forecasts on the hurricane season— and sign up for alerts.
"We all wish her success," Cuomo said of Hochul at the end of a farewell speech, in which he also decried the politicization of the numerous harassment claims against him and touted his administration's accomplishments and handling of the coronavirus pandemic.
"The truth will [come] out in time, of that I am confident," Cuomo said, speaking directly to camera in the roughly 15-minute video address.
Hochul, who will be 63 later this week is also a Democrat, will become the state's first female governor after a private swearing-in ceremony after midnight Tuesday, The Associated Press reported.
The speech came after a Cuomo aide told media outlets that the embattled governor "has no interest in running for office again."
"You know me. I am a fighter, and my instinct is to fight this because it is unfair and unjust in my mind," Cuomo said. "But you also know that I love New York, and I serve you ... and in this moment, I believe the right thing is that my service come first."
"Prolonging the situation could only cause governmental paralysis," he said.
Cuomo, 63, made the shocking announcement of his resignation two weeks earlier, after vigorously defending himself against numerous allegations of sexual harassment compiled in a damning report from the office of New York Attorney General Letitia James.
Cuomo had initially appeared poised to try to cling to his title after the damning report came out, even as many of his political allies, including President Joe Biden, called on him to step down. But in mid-August, Cuomo said that, "given the circumstances, the best way I can help now is if I step aside and let government get back to government."
His departure will not stop an impeachment investigation launched by New York state lawmakers, who restarted their probe days after being heavily criticized for deciding to suspend it following Cuomo's resignation announcement.
At least five district attorney's offices around the state have also begun probes of possible crimes by Cuomo against some of his accusers. A staffer for Cuomo has filed a criminal complaint against him, the Albany County Sheriff's Office said earlier this month.
"Between [his time as Housing and Urban Development secretary], [New York attorney general and] Governor, Andrew Cuomo has spent nearly 25 years in public service. And the way he does it, it's 24 hours a day, 7 days a week," Cuomo's close aide, Melissa DeRosa, said in a statement to NBC News.
"He looks forward to spending time with his family and has a lot of fishing to catch up on. He is exploring a number of options, but has no interest in running for office again," DeRosa's statement said.
Copyright CNBCs - CNBC