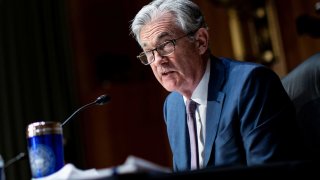 The Federal Reserve concluded its September meeting on Tuesday and said it may soon begin the process of slowing its asset purchases.
Follow along with market news and analysis to the Fed Chair's latest statements in the blog below.
Stocks closer higher after updates from Fed, Powell
The Dow closed higher by more than 300 points in a broadly positive day for the market. The S&P 500 and Nasdaq Composite each rose roughly 1%.
The 10-year Treasury yield drifted lower after making some volatile moves during Powell's press conference. The benchmark yield was trading near 1.307%, down 1.7 basis points for the day, at 4 p.m. ET. The 30-year yield saw an even larger decline, but short-term rates were higher.
-Jesse Pound
Medium and long-term path for Fed policy unclear, strategist says
Lawrence Gillum, fixed income strategist for LPL Financial, said that the medium and long-term policy path for the Fed remains unclear even as the central bank appears to be getting closer to tapering and rate hikes.
"We continue to think the Fed will announce plans to taper in November with the actual reduction in bond purchases taking place in December," Gillum said in a note. "Of note though, through the Dot Plot, signaling on future path of short-term interest rates continues to show the wide divergence of opinions on the committee. As such, the future make-up of the committee and whether Powell is reappointed or not will likely have a notable impact on the future of monetary policy."
-Jesse Pound
Powell getting 'a little more hawkish,' Jefferies' Zervos says
David Zervos, chief market strategist at Jefferies, said on "Closing Bell" that Wednesday's press conference showed a more hawkish side of Jerome Powell than the Fed Chair has shown in the past.
"I sense just something a little more hawkish in Jay than usual, especially coming after his Jackson Hole speech which was extremely dovish," Zervos said.
-Jesse Pound
U.S. isn't falling behind on digital currency innovation, Powell says
Chair Powell said the Fed is "working proactively" evaluating whether to issue a central bank digital currency. "We haven't made a decision about the CBDC but we will be issuing a discussion paper soon, in order form the basis" of public engagement on the issue.
"The ultimate test we'll apply when assessing a central bank digital currency and other digital innovations is where their clear and tangible benefits outweigh costs and risks," he continued.
He also said he doesn't think the U.S. is behind in the global race to issue a central bank digital currency.
— Tanaya Macheel
Powell's presser ends
Jerome Powell has ended his press conference after just under an hour. The Dow is up 440 points, while the 10-year Treasury yield is down slightly for the day.
-Jesse pound
Powell declines to comment on his potential reappointment
Jerome Powell declined to answer if he had heard from the White House about possibly serving another term. Powell's appointment ends in 2022.
-Jesse Pound
Evergrande not a preview of further global debt troubles, Powell says
Jerome Powell said during the press conference that the debt issues facing embattled Chinese property developer Evergrande should not be viewed as a preview of what could happen with other corporations around the world.
"The Evergrande situation seems very particular to China, which has very high debt for an emerging market economy," Powell said, adding that the company's distress does not appear to pose a risk to major U.S. or Chinese banks.
"You would worry that it would affect global financial conditions through confidence channels and that kind of thing, but I wouldn't draw a parallel to the United States corporate sector," Powell said.
-Jesse Pound
Powell urges Congress to raise the debt ceiling 'in a timely fashion'
Fed Chair Jerome Powell urged Congress to act quickly to raise the debt ceiling.
"It's just very important that the debt ceiling be raised in a timely fashion so that the United States can pay its bills," Powell said. "That's a critically important thing."
The comment comes as Minority Leader Mitch McConnell says Republicans will vote against raising the debt ceiling. If the debt limit is not suspended, the U.S. risks defaulting on its debt for the first time ever.
"The failure to do that is something that could result in severe reactions, severe damage to the economy to the financial markets and it's just not something that we could contemplate — that we should contemplate," Powell said.
"I think we can all agree that that the United States shouldn't default on any of its obligations...and that no one should assume that the Fed or anyone else can protect the markets or the economy in the event of a failure," Powell said.
— Hannah Miao
Powell says Fed doesn't need 'knockout' jobs report to move ahead
When asked about what the upcoming September jobs report means for future hikes, Chairman Powell said he isn't looking for specific numbers, but rather "accumulated progress."
"For me it wouldn't take a knockout, great, super-strong employment report. It would take a reasonably good employment report for me to feel like that test is met. Others on the committee, many on the committee, feel the test is already met. Others want to see more progress."
— Pippa Stevens
Powell addresses Fed official trading controversy
Jerome Powell said he was previously "not aware" of the details of the trading activity of some regional Fed presidents that have come under scrutiny over the past week.
Powell said that the central bank would undergo a review of the ethics policy surrounding trading by Fed officials.
"We're going to gather all the facts and look at further ways to tighten our rules and standards," Powell said.
-Jesse Pound
Markets retreat from highs
The equity and bond markets have retreated from their earlier levels as Jerome Powell has given more details about the Fed outlook. The Dow is now up 380 points, after rising more than 500 points earlier this hour, and the 10-year Treasury yield is now slightly positive on the day after being down more than 2 basis points earlier. Yields move inverse to prices.
-Jesse Pound
Many Fed members believe 'substantial further progress' has already been met in U.S. employment
Many Federal Reserve members believe U.S. employment has already met the central bank's standards for "substantial further progress," Fed Chair Jerome Powell said in a press conference.
"Many on the committee feel that substantial further progress test for employment has been met... I guess my own view is the test for substantial further progress on employment is all but met," Powell said.
— Hannah Miao and Tanaya Macheel
Powell says bond tapering could conclude by middle of 2022
Fed Chair Jerome Powell in a press conference said central bank members foresee a tapering of the pandemic-era bond buying program ending around the middle of 2022.
"Participants generally view, so long as the recovery remains on track, a gradual tapering process that concludes around the middle of next year is likely to be appropriate," Powell said.
— Hannah Miao
Powell says taper not a 'direct signal' for rate hikes
Powell repeated his earlier stance that the start and pace of the Fed's asset purchases "will not be intended to carry a direct signal regarding the timing of interest rate liftoff." The central bank said the Fed will use a different, more stringent test to determine when to lift rates.
-Jesse Pound
Fed is 'still uber dovish' after September meeting's taper update, Peter Boockvar says
Despite the Federal Reserve saying a tapering of its asset purchase program "may soon be warranted," the central bank's outlook remains focused on boosting economic growth versus controlling inflation, according to Peter Boockvar, chief investment officer of Bleakley Advisory Group.
"While a taper announcement, maybe, is coming in November, that they didn't do so today just reflects a still uber dovish committee," Boockvar said after the central bank released a statement following its September meeting.
— Hannah Miao
Half of Fed members now see rate hike in 2022
Half of the Federal Reserve members now project the first interest rate hike next year, according to the so-called dot plot of projections released following the Federal Open Market Committee's September meeting.
Nine out of 18 FOMC members expect a rate hike in 2022, according to Wednesday's projection, up from seven in the June forecast.
All but one member is expecting at least one rate hike by the end of 2023. Thirteen members are forecasting two rate hikes through 2023.
— Hannah Miao
Powell is now speaking
Chair Powell has started his opening remarks.
-Jesse Pound
Fed still vague on next steps
Even as the Fed signals that a taper may be near, the market is still waiting on specifics, said Seema Shah, the chief strategist at Principal Global Investors.
"The Fed's message is tantalizingly vague... The market is already pricing in tapering now and have promptly turned their attention to the date of eventual rate lift-off and the pace of rate hikes which, if anything, is a little more modest than markets had feared," Shah said.
-Jesse Pound
Dow extends gains
The Dow has risen further as investors digest the news from the Federal Reserve, and the Dow is now up more than 500 points.
-Jesse Pound
Stocks largely maintain gains, 10-year Treasury yield ebbs lower
U.S. stocks largely maintained their gains and the 10-year Treasury yield was lower immediately after the release of the Federal Reserve Open Market Committee's post-September meeting statement.
The Dow Jones Industrial average was up about 450 points and the benchmark 10-year Treasury yield was down about 2 basis points at 1.304% at 2:10 p.m. ET.
— Hannah Miao
Fed says bond-buying taper 'may soon be warranted'
The Federal Reserve on Wednesday said it may pullback its pandemic-era asset purchasing program a bit sooner than market participants expected.
"If progress continues broadly as expected, the Committee judges that a moderation in the pace of asset purchases may soon be warranted," the Federal Open Market Committee's post-meeting statement said.
The central bank held benchmark interest rates near zero.
— Hannah Miao
Markets show signs of strength ahead of Fed statement
The stock market was holding on to healthy gains for the day shortly before 2 p.m., with the Dow up more than 300 points and the S&P 500 and the Nasdaq Composite rising 0.9% and 0.7%, respectively. Meanwhile, the key 10-year U.S. Treasury Yield was trading down slightly for the day near 1.31%. Yields move inverse of prices.
-Jesse Pound
Fed examines a cloudier economic outlook
The Federal Reserve's September comes against an economic backdrop where the recovery story for the U.S. has become more complicated.
In recent months, the U.S. economy has shown signs of weakening growth amid the spread of the delta variant of Covid-19. However, inflation readings remain well above the 2% level that the central bank says it wants to average over time, leading some to question if Jerome Powell's forecast of a "transitory" rate of price increases will hold true.
-Jesse Pound
Focus on Fed forecasts at 2 p.m.
The Fed's September meeting has been widely anticipated since the central bank is expected to signal that it's close to announcing the taper of its bond purchase program. That will be the first big step away from the policies it put in place to counteract the impact of the pandemic on the economy and financial markets. But the focus of markets will be squarely on what the Fed now forecasts for interest rates and inflation.
-Patti Domm
Copyright CNBCs - CNBC