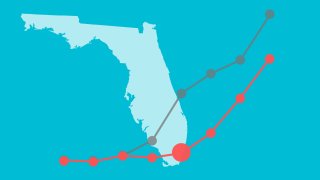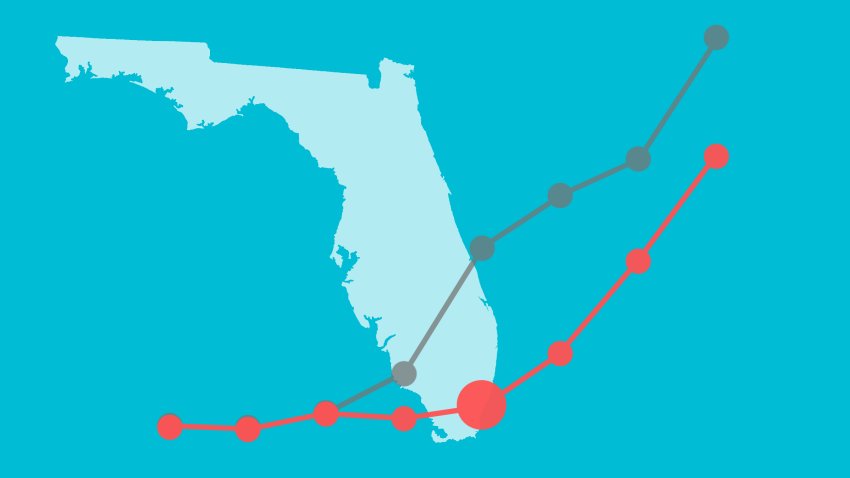 Miami-Dade County has been the epicenter of the coronavirus pandemic in Florida since the virus first emerged in mid-March. Broward and Palm Beach have also been named "hot spots," with cases continually rising in both regions. As cases of COVID-19 continue to surge across Florida, we are tracking the data to highlight trends and patterns locally, state-wide and across the world.
The following chart is a visual look at how cases have increased in the Sunshine State, compared to other states.
How Coronavirus Has Grown in Each State — in 1 Chart
Source: Johns Hopkins University
Credit: Amy O'Kruk/NBC
Positivity Rate
Some politicians have attributed Florida's rise in COVID-19 cases to more expansive testing. Many health experts, however, say the state's positivity rate paints a more accurate picture of how to measure the impact of testing in a given population.
"If a community's positivity is high, it suggests that that community may largely be testing the sickest patients and possibly missing milder or asymptomatic cases," the institution said. "A lower positivity may indicate that a community is including in its testing patients with milder or no symptoms."
In short, the positivity rate shows the daily percentage of tests that come back positive. A high positivity rate "indicates that testing in Florida is limited and that most cases may go undetected," according to Covid Act Now.
The World Health Organization says that countries that have conducted extensive testing for COVID-19 should have a positivity rate of 5% or lower for at least two weeks, according to John Hopkins.
In mid-September, Florida reported a positivity rate of less than 5% for seven days in a row. As numbers appeared to wane, Miami-Dade County officials opted to reopen certain facilities - like movie theaters and indoor arcades - at 50% capacity.
See the table below for a look at Florida's positivity rate throughout the past few months. 
R-Factor
The R-Factor, or "effective reproduction rate," is another metric gaining a lot of attention lately.
The R-Factor is the number of new infections coming from one case. It is generally used to describe the intensity of a disease outbreak, according to the University of Michigan.
If the R-Factor is over 1, it means one person is infecting more than one other person.
Generally speaking, an R-Factor greater than 1 is considered bad.
See the table below for Florida's R-Factor over the course of the past few months.
COVID-19 Testing in Florida
Local and state leaders have touted robust testing in the state of Florida. Here is a look at the number of tests that have been conducted across the state recently.
New COVID-19 Cases by County
Hospitalizations
When COVID-19 first emerged in the state of Florida, health officials made special arrangements to prevent hospitals from being overwhelmed. The following graph shows the number of new hospitalizations per day across the state.
Cases in Florida by Zip-Code
For a look at the number of reported cases in each county across Florida, take a look at the map below.
COVID-19 Cases Across U.S. & World