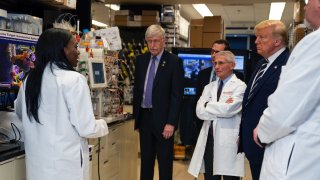 When President Donald Trump went to the National Institutes of Health for an update on progress toward a vaccine for COVID-19 back on March 3, many of those who sat behind the presidential seal with him were white men well known in the worlds of science, medicine and, now, national anxiety control: vaccine and infectious disease specialists like Dr. Anthony Fauci, Dr. John Mascola, Dr. Barney Graham and the man who led the human genome project, Dr. Francis Collins, director of the NIH. Sitting next to Graham was Kizzmekia Corbett, an NIH research fellow.
In 2003, Fauci said at the event, NIH scientists managed to identify SARS and get a vaccine to stage-one clinical trials in 20 months, NBC News reports. Now a team of scientists led by Corbett, 34, was poised to move to first-stage trials for a coronavirus vaccine — this time, in about two months.
No one asked Corbett — whom Collins had just described as a "wonderfully talented young scientist in our midst," as well as the only woman and black person at the table — a single thing. Just 13 days later, Corbett's team began first-stage clinical trials of a COVID-19 vaccine, the first of its kind in the world and the fastest progress ever toward a possible vaccine for a novel pathogen.
At least 40 distinct groups of researchers in China, Germany, the U.S. and other countries soon followed. But if Corbett's team is successful — meaning phase one, two and three clinical trials prove the team's work has produced a safe, working vaccine — something to prevent infection with the coronavirus could be ready for use in doctors' offices by early to mid-2021. COVID-19 could become a preventable disease.
Read the full story on NBCNews.com