A man smashed windows with rocks and destroyed computer monitors and other equipment during a rampage at a Miami bank, causing $40,000 in damages, police said.
Fadi Hasan, 30, was arrested on multiple charges in the Monday morning incident at the Bank of America at 15141 Southwest 42nd Street, an arrest report said.
The report said Hasan approached the bank just after 9 a.m. and started throwing baseball-sized rocks at the front windows, causing them to shatter. He then forced the front doors open, damaging them to the point that they wouldn't close properly, the report said.
Hasan went inside the bank and started destroying several computer monitors and various display items, the report said. After several minutes he went back outside and grabbed one of the rocks he had thrown and started throwing it at the drive-thru ATMs, the report said.
Fadi Hasan Appears in Bond Court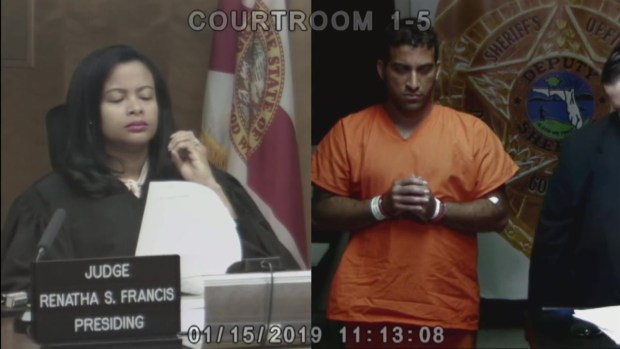 After throwing the rock 15 to 20 times at the ATMs, Hasan went back to the front of the bank and started throwing the rock at the windows again, the report said. He then went back inside the bank and threw the rock at a TV, the report said.
When an officer arrived, he found Hasan throwing a rock at the outside windows. The officer ordered Hasan to stop but Hasan ignored him, so the officer tried to use his Taser but missed Hasan, the report said.
Hasan ran from the bank but was taken into custody by other officers nearby. The report didn't say why Hasan allegedly targeted the bank.
Hasan is facing charges including armed burglary with assault or battery, criminal mischief, throwing a deadly missile and resisting arrest without violence. He was being held Tuesday on $123,000 bond, and attorney information wasn't available.